This is an archived article and the information in the article may be outdated. Please look at the time stamp on the story to see when it was last updated.
WRIGHTSVILLE BEACH, NC (CNN/WECT) - Several beaches on North Carolina's coast could have a jellyfish-like creature on them.  Portuguese Men-of-War are washing up on the beaches.
They're beautiful, but don't touch -- they can deliver a very painful sting.
"They are found all over the world within the tropic band, within the warm waters of the tropics," said Matt Babineau, a jellyfish expert. "They just go wherever the water takes them."
Strong winds have taken the blue jellyfish-like creatures to beaches in North Carolina, and some have also been reported along the shores of the Gulf.
Babineau says the creatures are rather distinct.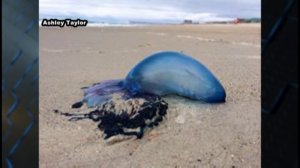 "What makes it so unique is it's this congruent of four different animals working together," said Babineau.  "They're very beautiful, they're purplish blue in color, they have a beautiful sail, this gas bubble."
And although beautiful, they could actually scar you for life.  Jellyfish experts recommend you don't touch them. Their venom is potent, their sting painful, and sometimes even deadly.
"They can't be rescued. Once it's up on shore, it's going to be damaged.  It will die," said Babineau. "But the tentacles can still sting so that's why I say don't touch it."
If you see one, Babineau suggests you tell a lifeguard to dispose of it.  The best thing to do is just admire these unique, blue beauties from afar.
Even dead Portuguese men-of-war washed up on the shore can deliver a powerful sting.