This is an archived article and the information in the article may be outdated. Please look at the time stamp on the story to see when it was last updated.
MADISON, Ala. (WHNT) -- In the heat of the gun control debate and the media narrative on Autism and the mentally ill also lies this question: "What if people think my child will grow up to become a mass murderer?"  
That is what parents of children on the autism spectrum fear after reports the Newtown, Connecticut gunman Adam Lanza suffered from Asperger's Sydrome.
Monday morning was difficult for many parents as children across the country returned to school under the saddening shroud of the Sandy Hook Elementary massacre. No matter how slim the odds, the question for parents remained: "What if someone walks into my child's school with an assault weapon?"
For parents like Madison's Beth Davidson who has an autistic child, that fear is compounded by another less far-fetched anxiety: "What if someone thinks one day my child could become a killer?"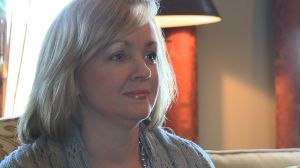 "It's upsetting as a parent because I don't want people to look at my child and think that he might be capable of that type of behavior," says Davidson. "Asperger's does not create violence."
Davidson's son will soon be 18.  He was diagnosed with the autism spectrum syndrome at age 10. She says she wants to make sure people know Asperger's creates social handicap, not mental illness.
"We told our son from the beginning of his diagnosis -- you're highly intelligent -- you have a gift from God."
Davidson reiterates those with Asperger's are more likely to be victims of teasing or violence themselves.
"Because I think people with Asperger's can become depressed because they are socially isolated -- they do have difficulty making friends because they don't necessarily understand people," she explains.
Research shows there is no link between Asperger's Syndrome and violence. Beth Davidson says her son has overcome nearly all his symptoms. She says he regularly participates in advanced theater productions at school and has recently been accepted to Auburn University's engineering program.