This is an archived article and the information in the article may be outdated. Please look at the time stamp on the story to see when it was last updated.
AUBURN, Ala. (WHNT) - A threat at Auburn University remains under investigation.  No arrest has been made, but classes were cancelled Wednesday due to concern.
AU plans to resume normal operations Thursday at 5:30 a.m.
Update issued at 4:00 pm: 
The Auburn campus will resume normal operations tomorrow as of 5:30 a.m. Classes will be held as scheduled, and employees should report to work according to their regular schedules unless otherwise notified by their supervisor. Dining venues, campus buildings and other facilities will operate tomorrow on normal hours beginning at 5:30 a.m. The Auburn University Libraries will open at 7:45 a.m.
While law enforcement officials see no threat to campus from events of the past 24 hours, we continue to encourage students, faculty, staff and visitors to remain aware of their surroundings and report any suspicious activity by calling 911. Anyone with information about who may have left the threatening message is encouraged to call the Auburn Police Division at 334-501-3140 or anonymously at 334-246-1391.
Auburn University is posting updates here: http://ocm.auburn.edu/news/alert/
The threat was found on a restroom wall in the Haley Center.  The threat reads:
"To whom it may concern: April 16, 2014 I will unleash a rampage of Biblical proportions across this tiny campus.  You have been warned."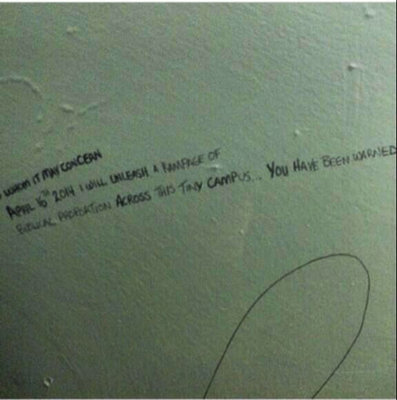 Classes cancelled, normal ops suspended for Wed 4/16/14 due to student/parent anxiety over threat. Authorities believe threat not credible.

— AU ALERT (@AUALERT) April 16, 2014
Authorities do not believe the threat to be credible.  However, police presence will be increased on campus.
University officials are urging people to call police to report any suspicious activity.
Classes and normal operations will resume Thursday at 7:45 a.m.