This is an archived article and the information in the article may be outdated. Please look at the time stamp on the story to see when it was last updated.
LIMESTONE COUNTY, Ala. - Highway 72 reopened just before 7 p.m. after being closed for more than two hours Friday evening.
The three-car wreck was on Highway 72 West, just west of Athens and east of Hardy Road. Troopers said a vehicle crashed into oncoming traffic, and then careened into another car. The drivers of two vehicles were flown to the hospital, both in serious condition.
Authorities say the crash happened at about 4:40 p.m.
At the scene of a three car wreck on 72 in limestone county @whnt pic.twitter.com/vZzfmdVvMT

— Kristen Conner (@KConnerTweets) December 5, 2015
TJ Toler was stuck in traffic for several hours waiting for the all-clear and the road to be reopened, which happened around 7 PM. He said he drove up on the crash and did what he could to help.
"Super hectic. Both of the cars were smoking, steam coming out of the engines. The guy who was in the car over here was unconscious," he described. "Stabilized his neck and it looked like he had a broken leg." He said he wanted to help because, "I would hope somebody would do the same for me or my family if somebody were in that situation, so I figured it was the right thing to do."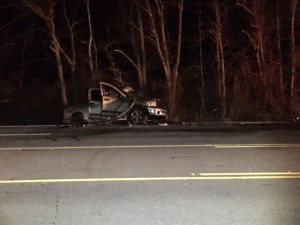 Toler said as he waited for crews to sweep up the broken glass and carry away the wrecked cars, he called his mom and his fiance. "Remind people that you love them when you see stuff like this," he suggested.
Troopers are still looking into what caused the crash.