This is an archived article and the information in the article may be outdated. Please look at the time stamp on the story to see when it was last updated.
LIMESTONE COUNTY, Ala. - A training tool from the Alabama Fire College is parked in front of the Limestone County Career Technical Center (LCCTC).
It allows high school students to get right on the front line of fire, and at the head of line for a career in firefighting.
The tech center's fire science class brought the Alabama Fire College's mobile simulator trainer to the campus for the teens to do the real thing in a controlled environment.
"This is a safe environment," explained Brandon Wilson with Athens Fire & Rescue who also teaches the class. "We can basically turn it on, turn it off, let them get used to being in the heat, seeing the fire."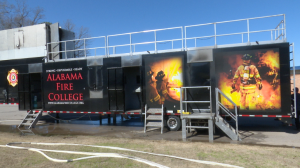 The trailer has simulated smoke with real fire, and Wilson says it brings the lessons to life, including everything from fire patterns, how to move in a burning structure, search and rescue, how to properly extinguish a fire, and of course, safety.
The class also gives students a head start if they decide to be a real firefighter. The class, offered to juniors, has four major tests.
"If they pass all four block tests they actually get their volunteer firefighter certification," explained Wilson.
Their senior year, they can obtain their EMT license. Not only would they be able to start volunteering with departments or riding ambulances right after high school, but it also shortens their journey to career firefighting.
"They can go from here, right out of high school, to a 5 week bridge program at the Alabama Fire College," said Wilson.
A person without the high school head start would have 22 weeks at the fire college; and graduation from the fire college makes them eligible for employment statewide.
Plus, municipalities would have to front the cost. So it saves time and money for students to finish the LCCTC courses their junior and senior years.
The students love the class, and the opportunity to run into a burning building, and take the trajectory seriously.
"I've wanted to be a firefighter since i was 10 years old," said student Andrew Teeples. "My dad started with Piney Chapel Fire Department and I fell in love with it there."
"Just the fact that you think someones in there and they're on fire, you dont think about being scared," said student Logan Bullington.
LCCTC Fire Science students also travel down to the Alabama Fire College and experience some of the training tactics experienced by aspiring firefighters.