This is an archived article and the information in the article may be outdated. Please look at the time stamp on the story to see when it was last updated.
ATHENS, Ala. (WHNT) - A grant from the Land Water Preservation Fund provides a launchpad for what Athens city leaders are calling a more 'inclusive' addition to the Kids Dugout Playground at the Sportsplex.
"Our idea is to make it all-inclusive, anybody can come out here and enjoy it," explained Parks & Recreation Director Ben Wiley.
By the first weekend of April, it will become the All-Kids playground, with specialized equipment to address a need Mayor Ronnie Marks saw years ago.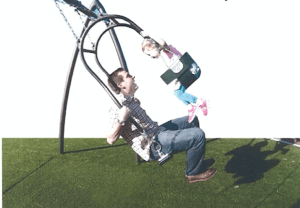 "The need was parents with handicapped children that did not have a playground facility," explained Mayor Marks.
The playground is already accessible, the expansion is simply an improvement so all kids of all ages have something to do.
It will feature equipment such as a merry-go-all, which is wheelchair-accessible, and the expression swing, which allows parents to swing face-to-face with a toddler.
It will also feature shade structures, complete with picnic tables, so guardians can relax nearby.
A 2013 grant from the Land Water Preservation fund provided $50,000. The city is matching that amount and adding engineering costs to bring about the changes.