This is an archived article and the information in the article may be outdated. Please look at the time stamp on the story to see when it was last updated.
LIMESTONE COUNTY, Ala. – On Thursday, strong winds damaged the visitor's side bleachers at the Clements High School football stadium. On Friday, school system leaders are trying to prepare for football season just around the corner.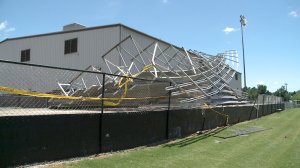 When it's said this destruction happened in a matter of seconds, it's no joke. Surveillance video from Clements High shows that in less than five seconds the bleachers were picked up and thrown back down. Superintendent Tom Sisk said he was in awe when he first watched the video.
"The bleachers on the end that we are standing closest to probably came out of the ground six or eight feet," Sisk said. "The ones on the other end where it is twisted, may have only came up about a foot."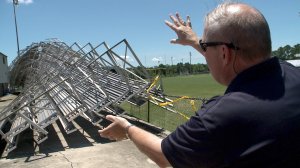 Now Sisk and the school system must deal with the aftermath. Insurance adjusters must come to look at the twisted heap of metal, and the busted concrete left behind. All of this just two months before the football season starts.
"Our best hope to have home games here at Clements Stadium is going to be to borrow existing bleachers from other entities for a short period of time," explained Sisk. "We invite our guests that are coming to games to bring bag chairs."
Superintendent Sisk said if they can make it through this football season they'll have more time to make permanent repairs.
Limestone County School System leaders say insurance adjusters and structural engineers will begin evaluating the visitor's side bleachers on Monday.