This is an archived article and the information in the article may be outdated. Please look at the time stamp on the story to see when it was last updated.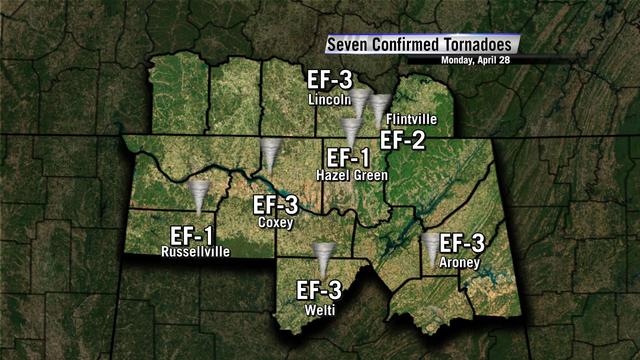 TENNESSEE VALLEY (WHNT) – The National Weather Service has surveyed areas hit by the severe storms on Monday, and determined seven tornadoes swept through north Alabama and southern middle Tennessee.
The map included shows where the tornadoes hit.  Click on each link below to read more on the NWS's findings on that location.
–Russellville: EF-1
–Coxey: EF-3
–Welti: EF-3
–Hazel Green: EF-1
–Lincoln, TN: EF-3
–Flintville: EF-2
–Aroney: EF-3
See more of WHNT's coverage from each of the areas hit on April 28, 2014.