This is an archived article and the information in the article may be outdated. Please look at the time stamp on the story to see when it was last updated.
LIMESTONE COUNTY, Ala. - Limestone County Schools have dealt with recent school threats. Superintendent Tom Sisk said they take every threat seriously and if something was to happen they are prepared.
Sisk said his school district has a three-layer defense plan set in place in case there's ever an active shooter. "First off we were the first county school system to partner with Limestone County Commission. They have invested more money to ensure we have an armed resource officer in every single school."
That is 17 officers on duty every day. Limestone County Schools is also using an app known as the "Rave Panic Button".  "This is the second full school year that we have had it implemented," Athens/Limestone County 911 Director Brandon Wallace explained.
Wallace said the app handles everything from medical emergencies to a possible active shooter.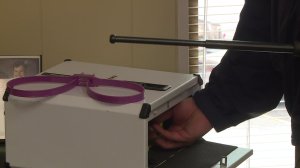 A safe defend box is also a resource the school system uses. "We have certain things in that box to defend with. Teachers have gone through and learned how to use the baton," Superintendent Sisk said.
The school system has close to 900 boxes and each one has a special lock associated with it. "We have them in the cafeteria. We have them in the library. We have them in the gym, the front office," Sisk said.
Sisk said many school shootings follow a particular pattern and he believes the three-layer defense plan addresses that concern.
He couldn't tell WHNT News 19 all of the security measures taken to protect students. He did say they are currently thinking of even more ways to better improve security.