This is an archived article and the information in the article may be outdated. Please look at the time stamp on the story to see when it was last updated.
LIMESTONE COUNTY, Ala. – A bunch of counterfeit currency won't be on the streets anymore in Limestone County.
According to the Limestone County Sheriff's Office, investigators seized $23,000 in counterfeit bills while searching a residence Tuesday.
At the same time, they also seized $4,400 of real money.
BREAKING: Investigators seized $4400 cash and nearly $23,000 in counterfeit bills while executing a search warrant at a residence today. This is a big problem in the county. Check your bills! Look for watermark, magnetic strip, compare to other bills. pic.twitter.com/5QOwuSwjF1

— Limestone Sheriff (@LimestoneCoSO) February 5, 2019
Billy Jay Howell, 47, and Paula Delaine Paulk, 49, both of Elkmont, were arrested. Howell was charged with 15 counts of possession of a forged instrument. Paulk was charged with one count.
The sheriff's office said the case will go to a grand jury to consider more charges.
Paulk was captured on a security camera using a counterfeit bill at a store Dec. 13, investigators said. That's when they began looking into the case.
On Monday, deputies took Howell and another man into custody in the Owens community after reports that a man had tried to use counterfeit $100 bills at several stores in the area. Deputies said they saw the man give Howell some money in the parking lot of Village Mart on Highway 99, and they detained them both. Investigators who responded said they found counterfeit money in Howell's possession.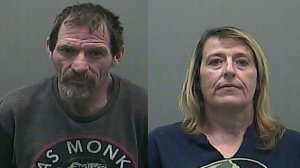 The next day, investigators went to search Howell and Paulk's home on Fort Hampton Road and said they found Paulk in the backyard trying to burn a trash bag that contained counterfeit money.
Inside the home, authorities said they found more bogus money, a printer, ink and other items. In all, they said they found $22,930 in $5, $10, $20 and $100 bills. Of the nearly 300 bills, only 33 serial numbers were used, they said.
Paulk was released from the Limestone County Jail on $5,000 bond. As of Wednesday morning, Howell was still jailed on $75,000 bond.
The sheriff's office said investigators believe a large amount of counterfeit money is still in circulation, and reminded the public to check any bills for a watermark and magnetic strip.