This is an archived article and the information in the article may be outdated. Please look at the time stamp on the story to see when it was last updated.
LIMESTONE COUNTY, Ala. – The Limestone County Sheriff's Office released body camera footage of a traffic stop that lead to a manhunt earlier this week.
The footage shows 32-year-old Tony Dewayne Glover being pulled over by Limestone County Deputy Jonathan Hardiman on Tuesday. When Hardiman told Glover he had active warrants against him, Glover scuffled with Hardiman and ran off into the woods.
The search was called off Tuesday evening when tracking dogs lost Glover's scent in the dense woods and swamp of northern Limestone County. Glover was able to elude authorities several times, due to the terrain.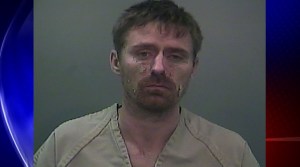 Around 7 a.m. Wednesday, a resident on Leaning Pine Road saw Glover entering a trailer and contacted the Limestone County Sheriff's Office. He was taken into custody shortly after.
Tony Glover has a long list of felony warrants in Limestone County, including Probation Revocation and Failure to Register as Sex Offender. Officials said he will face new charges related to Tuesday's situation also.
Hardiman was taken to a local hospital to get checked out, but he is back home with only minor scratches, the sheriff said.