This is an archived article and the information in the article may be outdated. Please look at the time stamp on the story to see when it was last updated.
LIMESTONE COUNTY, Ala. – A State Trooper who stopped a vehicle for speeding got the surprise of a lifetime when he discovered why the couple was speeding.
Danny and Shawna Lowe admit, they were speeding on U.S. 72 Sunday morning. Shawna had not only gone into labor, she was close to delivering the baby. "I got out and went to [Trooper Kesler] and I said, I'm sorry I know I was speeding but my wife's about to give delivery," Danny Lowe said. "I don't think he believed me."
That changed when Shawna Lowe screamed. "And she said pull my pants down, he's coming. I saw his head so I grabbed his head and he started coming and I grabbed his neck and just guided him right on out," Danny says.
He says Trooper Kesler was helpful every step of the way; he brought towels to wrap up baby Barrett from the 29 degree temperatures and called an ambulance to get mom and baby to the hospital.
"Without hesitation, Trooper Kesler quickly acted and assisted in the delivery of the baby," said Secretary of Law Enforcement Spencer Collier.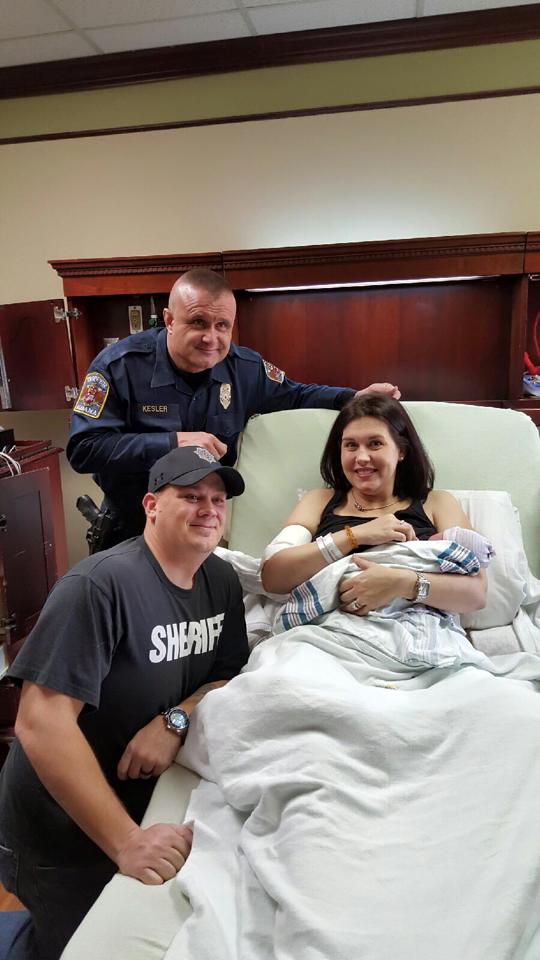 When the ambulance arrived, Kesler coordinated directions between the family doctor via cell phone and EMS. The mother and baby then were transported to Athens Hospital, while Trooper Kesler accompanied Danny to the hospital to be with his family.
Kesler then went to a local grocery store and purchased flowers, cupcakes, and a newborn 'starter kit to bring to bring to the new parents.
"I got to witness a 6 pound 10 ounce baby being born and it made my day worth coming to work," says Kesler.
This moment will likely create a permanent bond between the newly expanded family and their savior in blue. "It's a newly acquired  friendship. We're going to know each other a long time," says Kesler.
Danny says it was a blessing the trooper stopped them "because if he didn't, we would have been 2 more blocks and she would have to do it on her own. Or we would have wrecked… by him stopping me and doing his job he probably saved our lives."
Secretary Collier said, "Trooper Kesler's actions today exemplify the mission of the Alabama State Troopers — to serve and protect. I want to personally commend Trooper Kesler for his swift actions and going above and beyond the call of duty."
Going above and beyond wasn't lost on the Lowe family. "I've been fighting to get his middle name changed to Michael," jokes Danny as his wife shoots him a look.
Whether that happens or not, there's no doubt Trooper Kesler will be a permanent part of little Barrett's life.  "He doesn't have to do that kind of stuff, it came from his heart," says the proud father.
Danny Lowe was issued a speed warning by Trooper Kesler.