This is an archived article and the information in the article may be outdated. Please look at the time stamp on the story to see when it was last updated.
ATHENS, Ala. — Athens firefighters rescued a 12-year-old girl Sunday morning after she fell into a creek, according to their post on Facebook.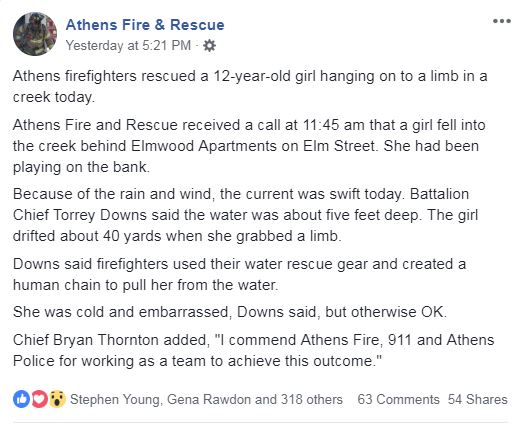 Athens Fire and Rescue responded to the creek behind Elmwood Apartments on Elm Street around 11:45 a.m. The girl had been playing on the bank before she fell into the creek. Firefighters said she had drifted about 40 yards when she grabbed a limb.
Now first responders are sending out a warning.
"We come down here wither out kids all the time and play," Elmwood Apartment resident, Haley Wilborn said.
But Sunday was different. Wilborn and her husband heard sirens and rushed to the water and he sprang into action.
"We saw her hanging onto the limb down there and so he just took his boots off and jumped in," she said.
The girl was swept 40 yards downstream before she grabbed the limb. Three agencies came to the scene – including the Athens Fire dDepartment.
"Water is one of the most powerful forces in the world," said Bryan Thornton, Athens Fire Chief.
And water rescues can be very dangerous. The rescue crew had to jump in the water to get the girl – eventually even creating a human chain.
"And the actually got a harness on the little girl just to get her secured and then with that done we do like a sweep to the bank," Thornton said.
He credits teamwork and new equipment for the success of the water rescue.
"We did get the equipment that we have now because of a drowning years ago," he said.
He hopes the fire department doesn't have to use that equipment again anytime soon.
"Just a little bit of water can move a car…Swift water it will take you and wash you downstream before you know what's going on," he said.
That's why he warning people to be careful near the water after a storm. The water at the creek behind the Elmwood Apartments is a place where many children play. Neighbors say it is a fun place to take kids fishing and it's normally safe. But after the storm on Saturday night, the water levels were extremely high and the current was moving much faster than normal.
Thankfully everyone was ok. The 12-year-old girl was fine and none of the first responders were injured during this rescue.