This is an archived article and the information in the article may be outdated. Please look at the time stamp on the story to see when it was last updated.
ATHENS, Ala. (WHNT) – Athens Police arrested a man after they say he broke into two separate residences armed with a double barrel shotgun.
Police received a call just after 2:00 p.m. Thursday from a caller on South Clinton Street that said a man was in a detached garage armed with a shotgun.
Prior to the arrival of Athens Police the man fled south.  At 2:59 p.m. Captain Anthony Pressnell was on Henry Drive when a woman ran out an apartment screaming that a man with a gun had broken into her apartment.
Pressnell requested the Limestone County Sheriff's Department helicopter and the Limestone Correctional K-9 Unit. 
Officers searched the area before a resident at Willow Brook Apartments told police that someone may have been hiding in one of the complex's vacant apartments.
Officers entered the apartment and located Karl Rambo Jr. in a bedroom closet with the loaded double barrel shotgun.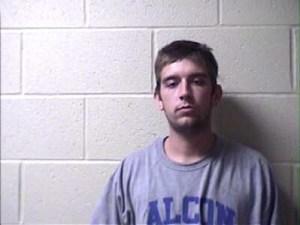 Rambo was taken into custody without incident.  He is charged with Burglary 1st Degree, Burglary 2nd Degree, Receiving Stolen Property 1st Degree, Receiving Stolen Property 2nd Degree and Criminal Trespassing 1st Degree. 
Law enforcement says the charged of Receiving Stolen Property stems from Rambo's possession of a stolen car from Lincoln County, Tn.
Officers say they recovered a 1992 Ford Taurus on Wednesday morning in a parking lot on South Jefferson Street. 
Rambo had the keys that matched the vehicle when he was arrested. 
The shotgun was also stolen from Lincoln County. 
He is being held in the Limestone County Jail.