This is an archived article and the information in the article may be outdated. Please look at the time stamp on the story to see when it was last updated.
REDSTONE ARSENAL. Ala. — A U.S. Army soldier with a long and distinguished military career is moving one step closer to retirement.
Retiring General Dennis Via has served as commander of the Army Materiel Command since August of 2012.  He will relinquish that command on Friday to Lieutenant General Gustave F. Perna during a ceremony at 10 a.m. on Redstone Arsenal.
General Via is one of only eight four-star African-American generals in U.S. Army history.  He's also the first signal corps officer to achieve the four-star rank.
WHNT News 19's Melissa Riopka spoke with General Via recently about his time in the Tennessee Valley and the skills he says his replacement brings to this command.
"A tactical level to an operational level to a strategic level, General Perna will come in very, very well prepared understanding the role and mission of this command, " said General Via.  "He'll understand that while we'll have a change in leadership, the mission of the command will continue."
General Via specifically remembers how communities came together after the deadly April 27 tornadoes.
"What I noticed most about this community, this remarkable community is how they work closely together to take care of the community and address the concerns of those who had lost homes or had severe damage," said General Via.  "I saw the way the installation worked close to the local elected officials to allow for opportunities to come on and buy fuel or get ice or just the things that you would need to be able to get through."
General Via calls this transition bittersweet.  However, the career solider says he and his wife are looking forward to spending more time with family in Virginia.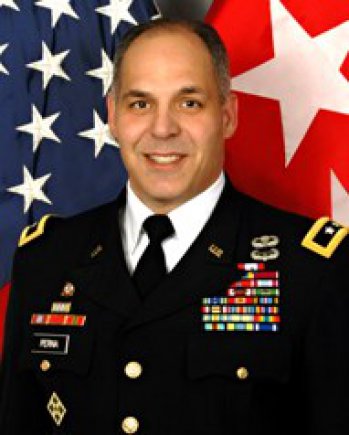 Lieutenant General Perna has served as U.S. Army deputy chief of staff since September 2014.  He also has experience working on Redstone Arsenal having previously served as AMC's deputy chief of staff.
He will be promoted to the rank of general during a private ceremony prior to Friday morning's change of command.