This is an archived article and the information in the article may be outdated. Please look at the time stamp on the story to see when it was last updated.
CULLMAN COUNTY, Ala. (WHNT) - Multiple agencies are investigating a shooting that left an Arab Police officer wounded and an Arab man dead.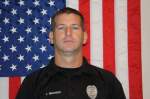 The man killed in the Sunday evening Cullman County shooting is identified as Christopher Ray Tompkins, 36 of Arab.
Marshall County Sheriff's Office officials say Sissy Amanda Vaughn is facing a theft of property charge stemming from the events that took place prior to the shooting.
Officials say there had been numerous reports of stolen vehicles in Marshall County on Sunday.
Then, multiple agencies got a call about a stolen vehicle in the area between Arab and Guntersville.
Arab Police Chief Ed Ralston says someone stole a truck while its owners were out riding an ATV. The owners tried to catch up with the vehicle. "A shot was fired at them," Chief Ralston says.
Multiple agencies chased the vehicle, spanning across the county line, ending in Cullman County. "The pursuit was terminated on County Road 1825," Ralston explains.
Officials believe a person involved with the vehicle thefts - both the truck and earlier that day - was Christopher Ray Tompkins, and say another woman identified as Sissy Amanda Vaughn was also involved.
"Once they got out down there, that's when there was a small foot chase and the firing began." Ralston says.
Officials say Arab Police, Guntersville Police and Marshall County Sheriff's Office then conducted a foot pursuit.
Officers say they located the two near a set of poultry houses off of County Road 1825. An altercation ensued and during the altercations Corporal Jeff Warren suffered a gunshot wound and Tompkins was killed.
Corporal Warren was air lifted to Huntsville Hospital where he was treated and later released on Monday morning.
Vaughn was transferred to the Marshall County Jail.
Officials say an investigation like this one takes time to work. "It took quite a while to gather some of the information because we had five different agencies that were involved in the pursuit and in the shooting," Ralston explains.
The State Bureau of Investigation and ALEA are investigating the shooting, so details surrounding that are not released. State officials say those findings will be released to local authorities.
Congressman Robert Aderholt took to social media asking for prayers for the Arab Police Department and Officer Warren's family.
Chief Ralston says a situation like this one hasn't happened to the department in years. "We have not had something like this, where an officer was actually hit, during my career which has been 25 years."
He says it's a tragic situation, and this is something they prepare for and hope doesn't happen.  He says 5 Arab Police officers are on administrative leave as part of policy, and WHNT News 19 has confirmed 1 Marshall County deputy is also on leave as the investigation into the shooting continues.