This is an archived article and the information in the article may be outdated. Please look at the time stamp on the story to see when it was last updated.
TUSCALOOSA, Ala. (AP) — Chi Omega Sorority officials say a University of Alabama member has been expelled from the school's chapter for a racially offensive post that was distributed via social media over the weekend.
University of Alabama President Judy Bonner said in a statement that a student made an offensive post to SnapChat Saturday afternoon that prompted an investigation by the Office of Student Conduct.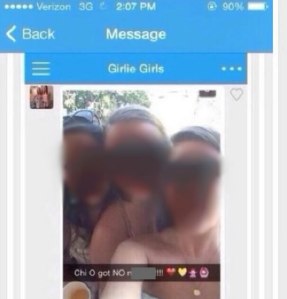 The post indicated Chi Omega didn't issue bids to any black women, which was actually incorrect.
Sororities at the University of Alabama held their fall membership recruitment programs over the weekend. The campus was engulfed in controversy last fall following reports that some majority white groups rejected blacks because of their race.
Chi Omega spokeswoman Whitney Plumpton says the women's fraternity embraces people from all walks of life and the recent group of new pledges included two African-American women and other minorities.
In all, 21 black women and 169 minority women accepted bids to various Panhellenic sororities at UA last week.
UPDATE: Reports from Birmingham media say the girl's family claims the picture circulating on social media was altered. The family claims the girl typed 'Chi O got NO ninjas' but then someone edited the photo to show the racist word instead.
There are other reports circulating online that say the word 'ninjas' auto-corrected to the other word. 'Ninjas' is a term used for girls the sorority doesn't want to issue bids to for whatever reason, but do, and they "sneak in" like ninjas.
Additionally, Al.com reports despite rumors the photo was altered, a Chi Omega spokesperson said the original photo, with the racist slur, is real.