This is an archived article and the information in the article may be outdated. Please look at the time stamp on the story to see when it was last updated.
HUNTSVILLE, Ala. – I'm sure anyone watching a television commercial late at night of a big juicy hamburger, perfectly-salted fries, and an ice-cold soda would start craving some fast food — Who wouldn't?
The United States is known to be one of the top consumers of fast food, but some states in America have quite a few more restaurants than others. And according to Datafiniti's latest analysis, southern states have the highest fast food count per capita. But wait… it gets even more interesting.
Alabama ranks number one on the list for the most fast food restaurants per capita! With 6.3 restaurants per 10,000 residents, "Sweet Home Alabama" really does enjoy their sweets! Vermont comes in at the last spot with only 1.9 restaurants per 10K residents.
Check out the full list of rankings to satisfy your craving for fast food knowledge.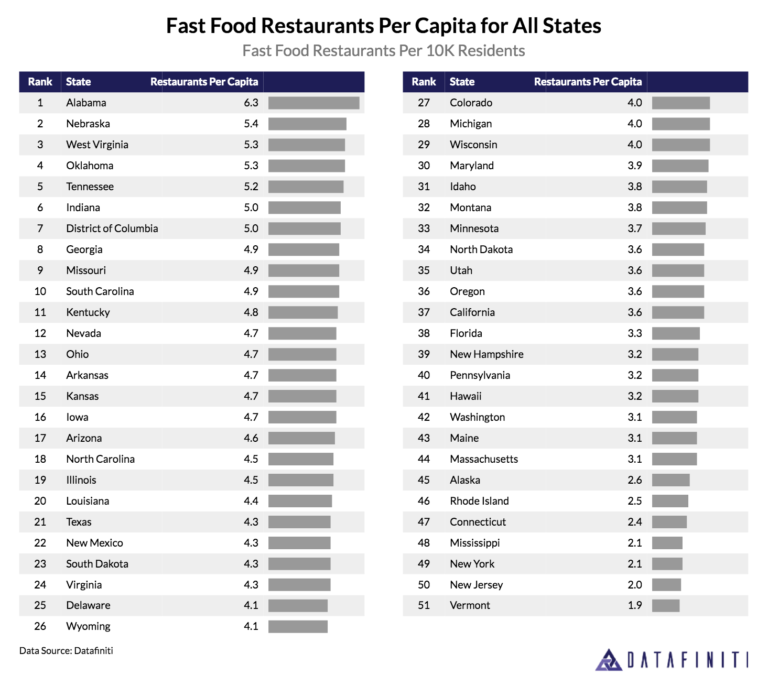 Not only does Alabama have the most fast food restaurants, our home state was also ranked by Thrillest as number three in the country for having the best fast food in America, following California and Texas. Why were we ranked so high?
Alabama has a fast-food empire that's almost as cultishly strong as its two football teams (that'd be impossible to really achieve though #RollTide #WarEagle). There's Milo's, the Birmingham burger empire that puts a second small square patty on top of every burger and coats it in a secret sauce that customers would probably just start guzzling on its own if that didn't interfere with the ability to drink Milo's Famous Tea that has such a following that it hit store shelves in gallon jugs in the '80s and has piled many rows deep since. There's also Taco Casa, which has such a cultish spot in the hearts of Alabamians that it was an instant rallying place after the Tuscaloosa tornadoes. The state also has Jack's, a 50+ year-old classic burger chain that is so condensed in the Northern half of the state that it could rival Starbucks density in many cities. And while we couldn't weigh national chains as strongly as local spots, Alabama has one of the largest selections, from Whataburger to Five Guys to Church's Chicken.
So whether you're looking for some fast food on a quick break from work, or as a late-night snack from that darn commercial, Alabamians don't have to worry! We have some of the most, and the best fast food around.