This is an archived article and the information in the article may be outdated. Please look at the time stamp on the story to see when it was last updated.
MONTGOMERY – Thursday, Alabama Secretary of State John Merrill announced his office is working with the Alabama Sheriffs Association to create a uniform pistol permit for people in Alabama.
Merrill said the purpose of a pistol permit in the state of Alabama is to provide added layers of security and protection for Alabamians. He said the purpose of adopting a uniform permit format would be to provide a level of consistency regarding the required information when citizens present their pistol permit in another county other than their county of residence.
You still apply for a pistol permit or renew it the same way, through your county sheriff's office.  This new change just gives it a uniform design: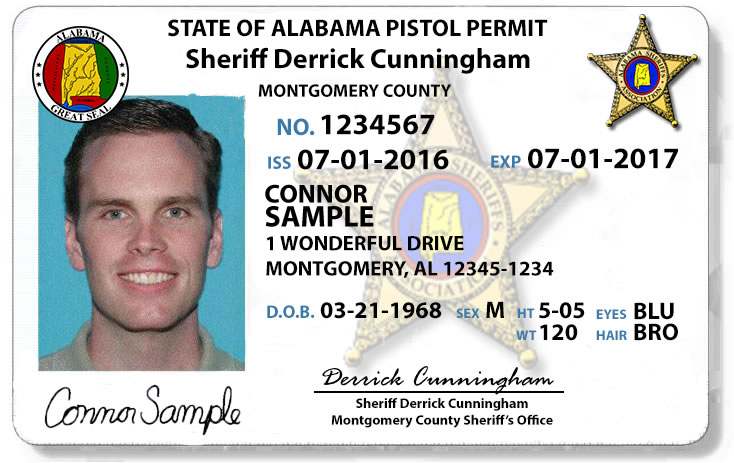 "It includes a photograph of the individual. It also has a standard seal on there that is only available through the pistol permit issuance. It also includes a watermark, which is an integrity identifier. It adds the credibility of the issuance of the permit," Merrill said.
He told WHNT this is a big upgrade for the state.
"We have some counties that still use paper cards. So it's difficult to maintain a uniformity when you're using some plastic cards and using some paper cards," Merrill said.
The secretary claims it will be easier to identify the permit holder.
"Whenever they present it in all 67 counties, or any other state in the union they're able to tell immediately that this is a permit that's been issued in the state of Alabama," Merrill explained.
"It's going to help law enforcement to be able to recognize a permit. It's going to help our deputies be able to look at it and say oh yeah, that is a valid pistol permit and not a counterfeit or one that had been altered," said Chief Deputy Dave Jernigan with the Madison County Sheriff's Office.
Sheriff's offices have already begun implementing the changes and rolling out the new permits as permit holders renew or obtain a permit for the first time.
"Since taking office in January of 2015, I have been committed to reducing the bureaucracy that too often is a burden to the people of this great state," said Secretary Merrill. "This uniform design will provide the people with clear rules regarding their rights as Alabamians. This uniform design also provides consistency which eases citizen interaction with law enforcement across the state."