This is an archived article and the information in the article may be outdated. Please look at the time stamp on the story to see when it was last updated.
BOULDER, Colo. (AP) — Two campers from Alabama have been arrested in connection with a Colorado wildfire that has grown to more than 600 acres, destroying five homes and four buildings.
The fire is in Boulder County.  Sheriff's deputies say Jimmy Andrew Suggs, 28, and Zackary Ryan Kuykendall, 26, both of Vinemont, Alabama, face felony arson charges because of the danger the fire poses. That's according to our sister station KDVR. The men were booked in the Boulder County Jail.
One of the campers accused of starting the Cold Springs Fire told investigators "It had to been us" because they were the only ones in the area where the blaze likely began, according to an arrest affidavit.  Authorities say the men left a poorly extinguished campfire smoldering as hot, dry winds whipped down from mountain peaks.
The fire sparked on Saturday, forcing evacuations of nearly 2,000 people southwest of Boulder.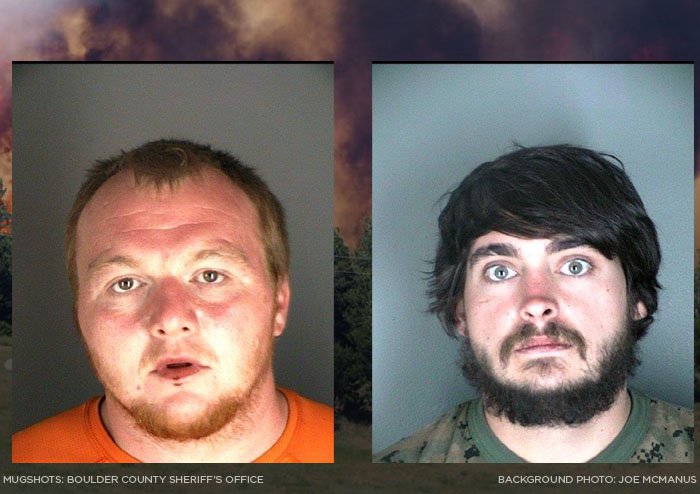 Suggs, Kuykendall and Elizabeth Burdeshaw, 21, were camping on private property, according to the Sheriff's Office.
According to the affidavit, witnesses told the sheriff's office they had seen the three camping near where the fire started. In an interview with investigators, the three said they were in the area and reading their Bibles, camping at three different sites.
The three agreed to show investigators where they had been camping. The first campsite could not be located. At the third campsite, Suggs found a machete that he had left behind. While hiking back, the three and investigators discussed going to the second campsite.
However, there was an active fire in the area and Suggs said, "That's right where we were," pointing to the fire.
He also said, "It had to been us. There was no one else around."
A few hours later, a fire investigator showed the three pictures of the area they had described as being their campsite. Suggs and Burdeshaw said it appeared to be their site, specifically indicating a stump in the geography looked familiar, according to the affidavit.
Suggs later said they had not put dirt on the fire, only rocks.
"Both Suggs and Kuykendall had a discussion about doing more to put out the fire but ultimately decided not to," the affidavit said.
The fire investigator then talked with the sheriff's detective and said he was "90 percent" certain the campsite was where the fire started. Suggs and Kuykendall were then arrested at Nederland High School and booked into the Boulder County Jail.
Karen Antonacci with the Boulder Daily Camera interviewed Suggs, Kuykendall and Burdeshaw the day before they were arrested.
Burdeshaw doesn't face charges because investigators say she didn't have anything to do with starting or maintaining the campfire.