This is an archived article and the information in the article may be outdated. Please look at the time stamp on the story to see when it was last updated.
NORTH ALABAMA – According to a study recently released by Harvard, Alabama's 4th congressional district has the highest rate of opioid prescriptions out of any other congressional district in the country.
How many prescriptions are we talking about? 166 per 100 people.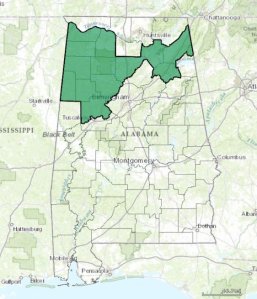 The district covers a large area of north Alabama,  from Colbert and Franklin counties all the way to portions of DeKalb County.
The Harvard study looks at prescriptions written in 2016.
In this area, 166 opioid prescriptions were written per 100 people.
Alabama's 1st congressional district was number five on the list, with 131 opioid prescriptions per 100 people.
Bradford Health Services' Angela Camp say they have seen the number of people seeking treatment for opioid addiction rising. She says the amount of patients who are suffering from opioid addiction come second only to alcohol.
She says many opioid addicts get their start when they begin taking a prescription for opioids.
District 4 is Representative Robert Aderholt's district.
He released a statement to WHNT News 19 saying he believes the opioid crisis corresponds to people in rural areas seeing fewer jobs and opportunities.
"Due to the epidemic of depression, people have turned to prescription drugs to dull the pain. However, I believe that President Trump`s renewed focus on these areas and increasing jobs has resonated here strongly."
Camp says the state has begun regulating opioid prescriptions more closely.  A step she hopes can combat a complicated crisis.
According to the Harvard study, the median number of prescriptions in congressional districts across the country is 65 per 100 people.