This is an archived article and the information in the article may be outdated. Please look at the time stamp on the story to see when it was last updated.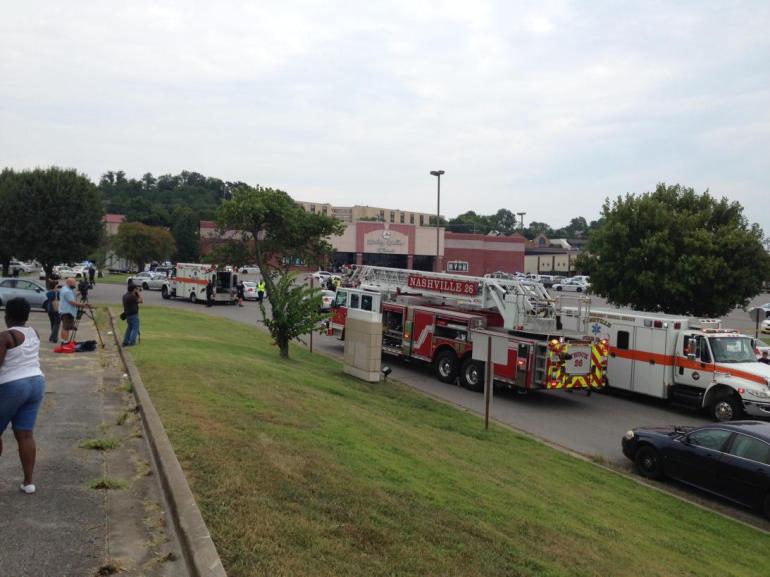 ANTIOCH, Tenn. – A 29-year-old man is dead after he allegedly went after moviegoers with a hatchet and pepper spray inside a Tennessee theater Wednesday afternoon.
Metro Police spokesperson Don Aaron said the suspect, now identified as Vincente David Montano, 29. was killed by a SWAT team outside the theater.
It started at 1:15 p.m. when two nearby officers received a report of an active shooter inside the Carmike Hickory 8, Aaron said. The officers ran to the theater and entered a showing of Mad Max: Fury Road, where one officer encountered the gunman. Aaron said the suspect shot at the officer, who returned fire and exited the room.
Aaron said the suspect, armed with what appeared to be a gun and a hatchet, had used pepper spray on three moviegoers and injured one with the hatchet.
When more officers responded, they tried to enter the theater, but the suspect, who was wearing a surgical mask, had used the pepper spray to cover the room, Aaron said.
The suspect then exited the theater through the back exit, where he encountered a SWAT team. Gunfire was exchanged, and the suspect was killed, Aaron said.
Aaron said the actions of the first officer saved multiple people in other theaters, as he kept the shooter inside the showing of Mad Max, allowing time to evacuate others.
The suspect was initially identified as a 51-year-old man, but police later said that was inaccurate.
A bomb squad detonated a backpack later Wednesday afternoon. Police said the suspect had two backpacks, one of which contained a "hoax device" intended to look like an explosive.
It was later discovered that the gun Montano had in his possession was an airsoft pistol. Police said he had been committed four times in the past and was reported missing at the time of the attack.
A Nashville Fire Department spokesperson said his team only treated three patients. All three had been pepper sprayed and one was injured by a hatchet.
Antioch is a suburb of Nashville, about 15 miles southeast of the city.
This story is still developing. We will update this story when we learn more.
This is the gun the movie theater suspect had. Although it looks like a real firearm, it is an airsoft pistol. pic.twitter.com/mixi9LGc9Y

— Metro Nashville PD (@MNPDNashville) August 6, 2015
This is the ax carried by today's movie theater suspect pic.twitter.com/2rHVb8WnyM

— Metro Nashville PD (@MNPDNashville) August 5, 2015