This is an archived article and the information in the article may be outdated. Please look at the time stamp on the story to see when it was last updated.
FT. LEONARD WOOD, Mo. (WHNT) - Wednesday morning I promised you an update on my basic training experience. Frankly, it was exhausting. Wake up call was at 4 a.m., and we didn't get back to our rooms until 10:30 p.m.
I have never felt so fatigued in my life. I thought long days at work were difficult, carrying a camera and tripod, doing five live shots, driving across town, sometimes to the edges of our viewing area. That was nothing compared to an 18-hour day at Ft. Leonard Wood.
Here's the first part of two posts describing our day at FLW:
5 A.M. PHYSICAL TRAINING - If you watch WHNT News 19 you may have caught on, I often don't go on air until 10 p.m. I'm a night owl, I work while most people are relaxing with their friends or family and don't wake up until most people already have three or four hours of work under their belt.  Four in the morning? I've gone to BED at four in the morning. But here we are, ready to go to Physical Training (PT) with the recruits. I even joined in the fun.
6 A.M. BREAKFAST -  I have never been so happy to see an omelette. However, my enthusiasm was in stark contrast to the austere Privates. They stood silently in line, trays up at chest level. When they would arrive at the counter they would immediately, and quickly, rattle off exactly what they wanted: "BACON. EGGS. POTATOES. FRENCH TOAST!" There was no time to waste.
As they headed toward their tables the Drill Sergeants would yell "PIVOT. PIVOT. PIVOT" as each soldier would turn toward their table. More than once we witnessed a Private being sent back to do it again because they forgot to pivot, or turned on the wrong foot. Once they got to their table they all stood until instructed to sit down. Once they sat they shoveled food into their mouths. While your parents may have told you to slow down while eating when you were a kid, here they have no choice but to rush. They do not talk, they do not pause. They have 10 minutes to finish their meal before they are off to their next assignment. Just like any other military duty, during meal times their assignment is to fuel their bodies. Not socialize. Not rest. Eat.
8 A.M. PHYSICAL ENDURANCE COURSE -  It seems increasingly popular among my friends and family to do obstacle course races. It seems every other weekend there are photos on my Facebook feed of people covered in mud, grinning in victory after conquering a series of obstacles.
After breakfast we met up with some Privates who were only one week into their training. They were getting ready to begin the Physical Endurance Course.
The course consists of 16 obstacles, including rope climbs, crawling through pipes, through the mud, and under barbed wire, swinging across a ditch, crossing a swaying rope bridge, crawling upside down along a horizontal pole, and leaping over walls.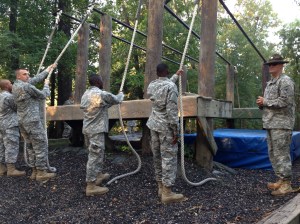 Each obstacle tests your upper body and core strength, and you run between obstacles, testing your endurance. If you fail to complete an obstacle, you have to do 25 push ups (I failed at more than one.... monkey bars and the rope climb.)
Drill Sergeant Skinner was exactly what you think a DS would be, barking orders, low on patience for slow recruits, and with sarcasm on reserve. But he assured, at the end of the 10 weeks these newbies would be putting their initial run of the course to shame, conquering the obstacles that gave them trouble this time around.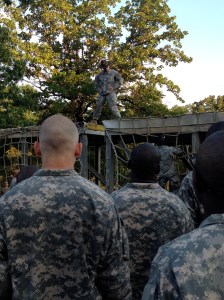 I was lucky enough to get in with a group of guys who continuously cheered me and another reporter on through the entire event. Even when I was the reason they had to stop and do push ups. When we completed a course well, we got high fives from the Privates, who were also facing the obstacles for the very first time.
Today everything hurts. Everything. I actually can't even straighten my arms all the way! Regardless, I am surprised at how well I did, and proud of the scrapes and bruises I acquired all over my legs and arms (there are a lot).
As for the Privates, they will have to go through the course again at the end of their 10-week basic training. In that time they will work out on other courses, learning to rappel and, for some, conquer their fear of heights.
(This post is to be continued...so stay tuned! And don't forget to follow me on Twitter and Facebook!)