This is an archived article and the information in the article may be outdated. Please look at the time stamp on the story to see when it was last updated.
Ft. Leonard Wood, MO (WHNT) — Today is a day of travel, on our way to Ft. Leonard Wood, MO.  The roughly four-hour trip gave me much-needed time to brush up on Army officer and enlisted ranks.
Before we took off this morning we took a brief tour of the U.S. Army Command and General Staff College. The college admits military students from 140 countries and there are currently four Heads of State who graduated from the college (one from Indonesia).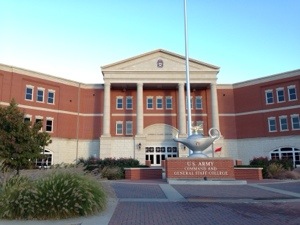 Along the way we had the opportunity to speak with international liaison officers from Australia and Germany.
The most interesting part of our conversation, for me, was hearing about the perception of the military in their respective countries. Both Lt. Col. Spencer Norris, of Australia, and Col. Carsten Treder, of Germany, agreed that Americans express far more patriotism toward their armed forces than citizens of their countries.
Col. Treder cited Germany's WWII past as much of why many Germans cast a wary eye toward the military in his country. Lt. Col. Norris said while Australians are patriotic, it nowhere meets the level of American regard for the military.
Businesses in their countries do not offer military discounts, nor do officers regularly get special recognition at sporting events, or special treatment at airports. But in Lt. Col. Norris' words, while the respect is appreciated, for him it is "nice to be taken for granted from time to time."
Col. Treder agreed, saying for him the perfect amount of patriotism for a country's military would be "A 50/50 split, somewhere between that of Germany and America."
Tonight we may have the privilege of seeing a group of recruits step off the bus as they arrive at basic training.
It will surely be a unique experience and, if all goes to plan, I will have some great photos and video to share throughout the evening.
Then tomorrow, at 5 a.m., I try my hand at physical training… wish me luck!
Please feel free to email me with any questions you may have about my time here.  My email is daniela.perallon@whnt.com.  Or, follow me on Twitter: @danielaperallon