This is an archived article and the information in the article may be outdated. Please look at the time stamp on the story to see when it was last updated.
The Storm Prediction Center already outlined a SLIGHT RISK of some severe storms with hail and strong winds for Wednesday morning (timeframe around here roughly 5 AM to 10 AM); we also note a higher risk of severe storms for the eastern half of the Tennessee Valley for Wednesday afternoon and evening (around 1 PM to 7 PM).
For this morning, there is currently a severe thunderstorm watch out for Etowah and Cherokee Counties through 8AM: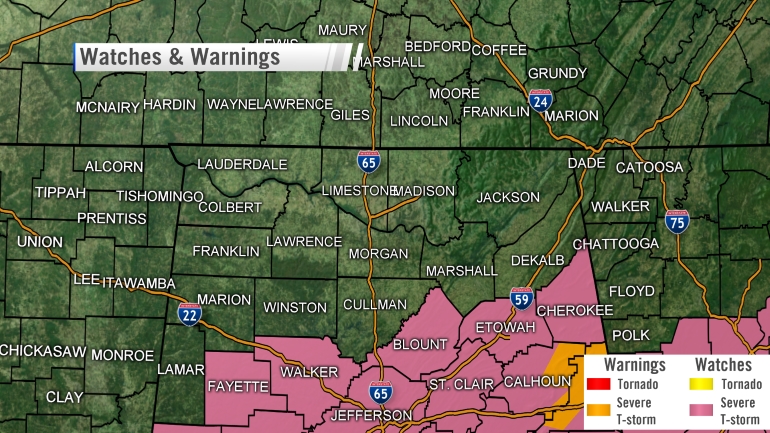 Storms in Central Alabama have been producing large hail, up to quarter in size or higher and high winds up to 58+ mph and very frequent lightning. Those storms looks to clip the southeastern edge of the Tennessee Valley, where the watch is out in Etowah and Cherokee. Over the course of the morning as the storms spread northward though Cullman, Blount, Etowah, Cherokee, Marshall, DeKalb and Jackson Counties have a good chance of rain and storms. The first round of storms will end from 9AM-10AM: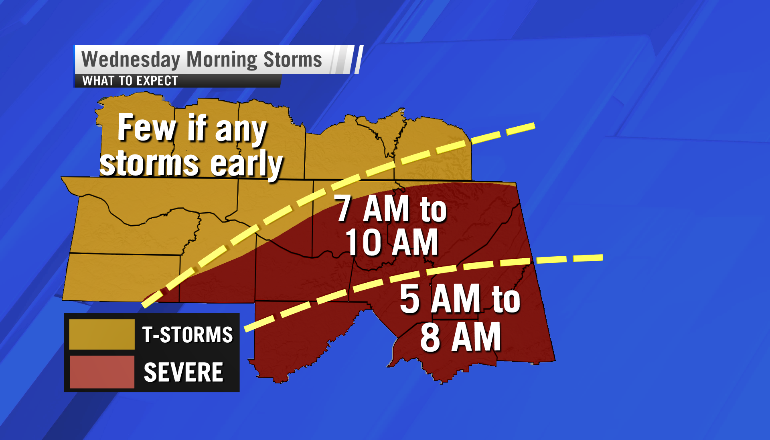 More Storm Wednesday Afternoon: The second round of storms hinges on how quickly the atmosphere recovers from the early-day action.
There is a good chance we'll see the clouds break allowing temperatures to hit the mid-70s; a cold front moving into Northwest Alabama around midday triggers a new round of heavy storms from 1 PM to 7 PM. Large hail (up to baseball size), high wind gusts, and tornadoes are possible with the afternoon/evening storms.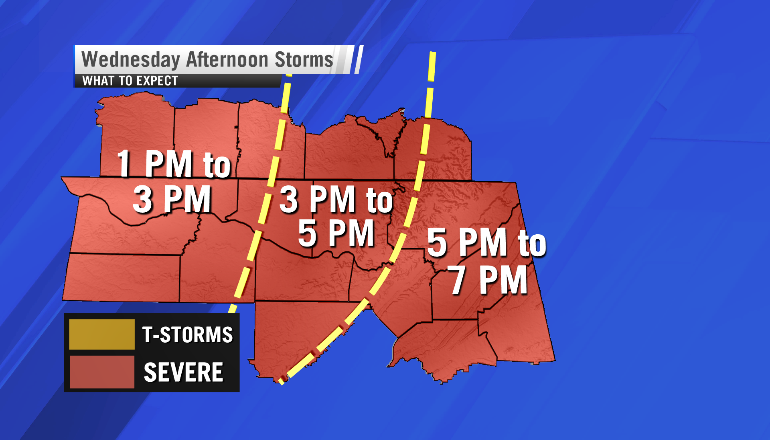 Northeast Alabama again is primed for the higher threat: Madison, Morgan, Cullman, Blount, Etowah, Marshall, Jackson, DeKalb and Cherokee Counties (extending south through the Birmingham and Anniston areas as well).
Need some specifics about the cold snap for Friday and the weekend or next week? That's always found online at WHNT.com/Weather and in the "Daily Forecast" section on Live Alert 19!
-Jason
Connect with me!
Facebook: Jason Simpson's Fan Page
Twitter: @simpsonwhnt