This is an archived article and the information in the article may be outdated. Please look at the time stamp on the story to see when it was last updated.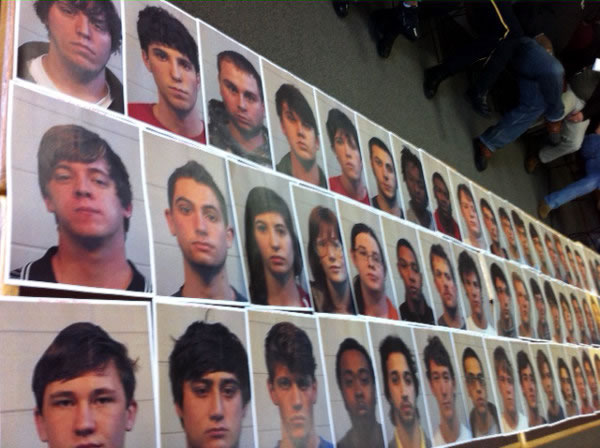 TUSCALOOSA, Ala. (WIAT) —  According to WIAT, 74 people were arrested on Tuesday on drug charges mostly related to marijuana. The UA Department of Media Relations confirms that 61 of the people arrested are currently enrolled students at the University of Alabama. The arrests took place in both on campus and off campus residences.
The West Alabama Narcotics Task Force with assistance from the Tuscaloosa PD, Northport PD, The University of Alabama PD, US Marshal Task Force, and the Tuscaloosa County Sheriff's Office have been executing drug related search warrants and arresting individuals with arrest warrants since 4:00 am Tuesday morning. The warrants were obtained after a 2 month long narcotics investigation.
In addition to the 74 on Tuesday, 15 others have been arrested during the course of the investigation.
University President Dr. Judy Bonner sent out the following message in regards to Tuesday's events:
"Earlier this morning, the local multi-agency drug enforcement task force concluded investigations that resulted in search and arrest warrants being served on and off the UA campus. UAPD, which is a participating agency with the task force, assisted with the investigations and arrests.
The students who were arrested will be referred to Judicial Affairs. Once judicial reviews are completed, students will receive sanctions up to and including expulsion. UA has a zero tolerance policy when it comes to the sale or distribution of drugs, on or off campus, and we will continue to vigorously enforce that policy.
These students represent a small group of UA students. UA will review our current policies and practices to ensure that we are doing all we can to educate students to make the best decisions they can and that we are providing an environment that is conducive to learning. Students must understand that they have a choice when it comes to their behavior, and that their decision to violate drug laws and the Student Code of Conduct will have consequences.
One of our top priorities at The University of Alabama is the security and well-being of our students. We invest significant time and resources in a three-pronged approach that focuses on education, environment and enforcement. And, our commitment to student safety and well-being extends beyond the geographic boundaries of our campus. The University is extremely disappointed when students make choices about substance abuse that can have such a significant and negative impact on their lives and others, including their families, their friends, other students and this University.
I can assure you that we will continue to work diligently with students and parents to effectively address the national problem of substance abuse on our campus and in our community. Please know that I am committed to making sure that students have the information they need to make good decisions. And, that I am committed to leading the way for every student who chooses to be successful in his/her academic and personal endeavors. Together, we will focus on the highest possible ethical, moral and legal standards."
Judy Bonner
President