This is an archived article and the information in the article may be outdated. Please look at the time stamp on the story to see when it was last updated.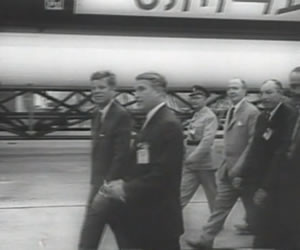 HUNTSVILLE, Ala. (WHNT) – Fifty years ago, Huntsville was front and center on the national stage.  Attempts to launch Redstone Rockets were a success and President John F. Kennedy visited the city to see the installations for himself.
Dr. Werner Von Braun was building his arsenal on and off Redstone Arsenal.  His vision of rockets and space travel would propel the business of defense – unmatched anywhere.
Von Braun's next mission:  putting man on the moon.  For that, he would need the manpower and know-how from top engineers.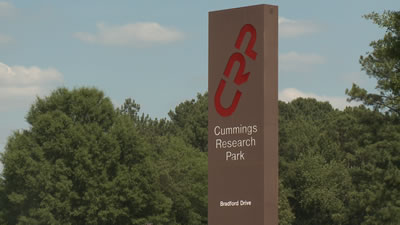 The vision to build Cummings Research Park would launch a cotton town into the space race.  Today, in 2013, Cummings Research Park  remains the the second largest research park in the nation and the fourth largest in the world.
"When you think back to how it all started with, really, Werner Von Braun going to Will Halsey, which is a name you recognize in business, to Sunnyvale to convince Lockheed to move here and they did," said Major General Jim Rogers, VP of Army & Missile Defense Programs at Lockheed Martin.
Looking back 50 years, Lockheed's Huntsville operations started small.
"It was between 50 and 100 I believe," said Rogers.  "We're now in this facility here about 800, total about 1,200 in the Huntsville community."
To grow and sustain for 50 years, it takes defining moments.
"In 1984 we had our first actual proof of our ability to hit something moving that fast in the exosphere," said Rogers.  "Scientists — many scientists said that could not be done.  And now we're over 70-plus hit-to-kill operations or tests that have been executed by us to show that technology works and that is part of the theatre of ballistic missile defense that we have today all the way down into protecting our troops with the pact three missiles that we have in the Patriot system.'
While Von Braun was launching rockets and Lockheed engineers were working on the next big thing, Huntsville native Jerry Damson was starting his own venture.
"It was Dad, he basically did the body work on the cars, mechanic work on the cars," said Deke Damson.  "I know the first eight years of my life he'd come and wake me up at night to play because he was working 18 hours a day."
Jerry Damson added employees and moved from the original Meridian Street location.
"I think it was '71 he moved onto the Parkway and at that point, things picked up," said Damson.
The mechanic-turned businessman had a vision.
"Dad was a charter member of the Chamber of Commerce, charter member of the BBB," said Damson.  "Those things certainly have been big to the community over the last 50 years, they've been big for us too."
Huntsville's business community has seen rapid growth over the last 50 years.   According to the Huntsville Madison County Chamber of Commerce, in 1955, there were less than 500 members.  In 1963, there were 800 members.  Today, there are 2,200 members.
"As the community grew, it afforded us to grow too, more people… more cards to be sold," said Deke Damson.  "And I think through the community growing and through our community involvement it's afforded us to grow."
While the scenery has changed and the number of companies has grown, the one thing that stays the same in business is 'it's not what you know, but who you know'."
"It's all about making sure you get great people that have that desire to be the leading edge in technology and we feel very comfortable that Lockheed has been able to look ahead," said Major General Rogers.
"Dad always said surround yourself with good people and I think that we've been very fortunate," said Deke Damson.
The people and a sense of community.  Local business leaders say those are among the secrets to success.
"What do the next 50 years hold for Damson?" WHNT News 19 asked.
"Oh my goodness.  Flying cars," Deke Damson said.
"Von Braun [began the shuttle program here], so you're in the right place," we replied.
"That's right, we could have that, couldn't we?" Damson said.