This is an archived article and the information in the article may be outdated. Please look at the time stamp on the story to see when it was last updated.
HUNTSVILLE, Ala. – WHNT News 19 is partnering with RocketCityMom.com this September to collect diapers for local families in need. We hope you'll join us in helping low-income families give children their best start.
Thank you to everyone who dropped off diapers and wipes at our Blitz Drive on Wednesday in front of The Rock Family Worship Center!   We collected 8,309 diapers for needy families right here in Huntsville and Madison County.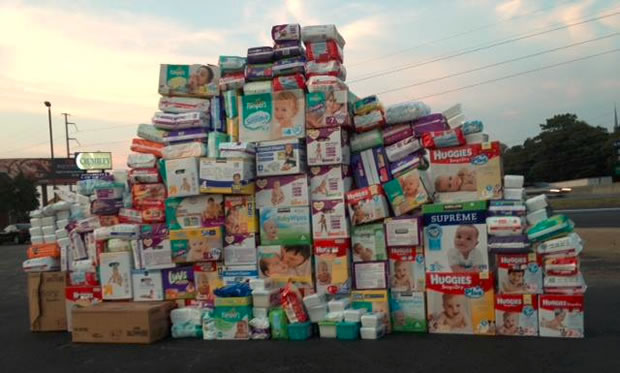 Diapers and wipes are some of the most expensive must-have items for new parents, costing in some cases, upwards of $100 per month. Many Tennessee Valley families struggle with that burden and can't find help through government programs because diapers are classified "hygiene items."
The cost has even reportedly caused some families to reuse disposables, or leave babies in diapers far longer than they should – leading to diaper rash, infections and other health problems. You can read more on the need for diapers here.
As WHNT News 19 Morning Anchor Michelle Stark outlined recently in a blog post before the birth of her first child, cloth diapers can save families big money and are experiencing a resurgence in popularity. Unfortunately, they are not an option for most low-income families that don't have access to washers or dryers, or need to drop kids at daycares requiring disposable diapers.
All diapers will be distributed through Manna House, a local 501(c)3. Click here to make an online donation. Please enter "diapers" in the comment section. A donation of $25 will buy 200 diapers.
You can also donate disposable diapers and wipes at these businesses throughout the month of September:
Manna House – 2110 South Memorial Parkway in Huntsville from 2:00-7:00 p.m. (Monday, Wednesday or Thursday)
A Nurturing Moment – 7540 Memorial Pkwy SW in Huntsville
Itty Bitty – 5732 U.S. 431, Brownsboro, AL 35741
Kidventure – 500 Lanier Road, Suite D in Madison
The Little Gym locations – 2124 Cecil Ashburn Dr. SE and 470 Providence Main St.
Posh Mommy and Baby, Too! – 7755 Hwy 72 W. in Madison
WAY FM – 9582 Madison Blvd. #8,

Madison
Kidventure hosted a Diaper Shower on Sunday, September 8th. Every child who brought in a package of disposable diapers got in free!  Click here to see pictures of the event.
For more information on RocketCityMom.com, click here.
To read more about Michelle Stark's journey to parenting, check out her baby blog here.