This is an archived article and the information in the article may be outdated. Please look at the time stamp on the story to see when it was last updated.
On the anchor desk, I call Clarissa McClain the "Voice of Reason."
WHNT NEWS 19 Chief Meteorologist Jason Simpson and I not only enjoy the loose cannon part of our personalities, we embrace it.  Clarissa is the "Voice of Reason" that reins us in … in a variety of ways.
During commercial breaks, when Jason and I start soaring to the stratosphere in whatever shiny object has our attention, it's Clarissa that will say "we're about 10 seconds before you two have to be responsible adults and on television."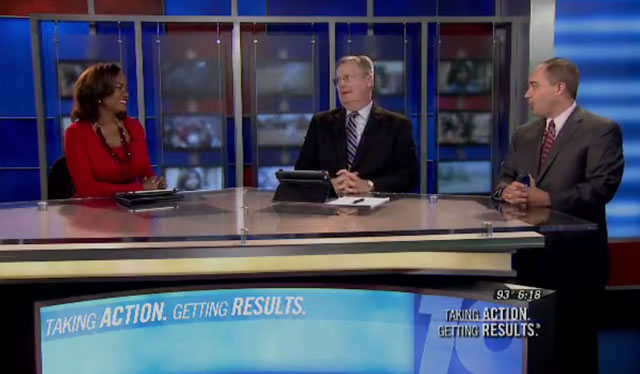 There is a running thread of conversation that pops up from time to time in the newsroom that has to do with "who you want in your foxhole" when things get tough.  Clarissa is one of those people you want in your foxhole. So is her husband DeMarco.
She is very clear about the process it takes to be successful and what is great work, and what is not.  She is also one of the people who will pull you aside and say "I'm thinking of you and will say a prayer for you" when life gets tough.
Many of us call DeMarco "D-Mac," so naturally that also grew to include Clarissa as "C-Mac."  And now there is word January 2016 will bring us "BeeMac" … as in "Baby McClain" … as in the family is expanding.
It's always great news when a baby is coming. But I've always thought that it's particularly great news when a news family is having a baby.
Working in a newsroom is hard on families. The hours are bad. The stress can be off the charts. And it's an environment in some cases, where you run into people who think babies and news are a bad mix.
But for most of us, a baby in the newsroom is a reminder there is good in the world, and not all the bad we see from network feeds. It's a reminder there is hope for the future.  And news people need that.
Back to that foxhole discussion…
It's also no shock that Clarissa and DeMarco are using their news of "And One" to help people who need a break. Clarissa is on the Food Bank of North Alabama Board of Directors.  In the announcement, we've added shareable pictures.  We've also set up a link with the Food Bank of North Alabama where you can make a donation and vote if you think the baby is a boy or a girl.  Clarissa will reveal the baby's gender August 27 on WHNT News 19 at 6:00 p.m.
Here is why your donation is important.  Seriously important.
"There is hunger in north Alabama. In fact, one in four children in north Alabama is considered food insecure," said Kathryn Strickland, Director of the Food Bank of North Alabama.
Here is what that translates to in human terms.  There are almost 60,000 children living under those conditions in homes across north Alabama.  60,000.
In the middle of a joyous moment, like finding out they are having a baby, Clarissa and DeMarco thought of those children and how they could help them.
Foxholes.  We should be lucky enough to have Clarissa and DeMarco there with us should we find ourselves near-buried.
And one more thing …. I think it's a girl.
-Greg Screws