This is an archived article and the information in the article may be outdated. Please look at the time stamp on the story to see when it was last updated.
MARSHALL COUNTY, Ala. -- Is there a teacher you wish you could have for every grade level? Cynthia Pate is one of them.
Mrs. Pate has been molding young minds at Arab Elementary School for more than two decades. Principal Tonya Cupp says Mrs. Pate's success is due to her ability to connect with her students.
"It's about getting to know her students and about them as learners and them as an individuals." says Tonya Cupp.
Gavin Young, a student, nominated Pate to win $319.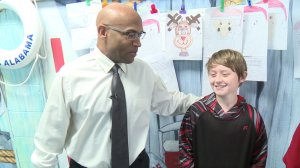 "Mrs. Pate is a really good teacher," said Young. We only spent a short time in Mrs. Pate's class, but it's clear her students think the world of her.
"She is the best teacher ever," said one student.
"You are the best teacher I ever knew in fourth grade," said another.
As for Gavin, he hopes to once again see Mrs. Pate at the head of the class. "I wish I had you for fifth grade and sixth grade."
Mrs. Pate isn't teaching for the money. "They have let me into their hearts," Pate said. "It means a lot to me that he thought enough of me to do this. That's worth all the money in the world."
Tell us about a public school teacher you feel deserves recognition. Send us your nomination today! Honorees will receive $319 for their classroom. Nominees must teach in K-12 public schools in the WHNT News 19 viewing area.