This is an archived article and the information in the article may be outdated. Please look at the time stamp on the story to see when it was last updated.
MADISON COUNTY, Ala. -- Meet Sharon Lakin. She teaches Kindergarten at Hampton Cove Elementary in Madison County.
Principal Autumn Bray says Mrs. Lakin's efforts are well-known inside and outside the classroom.
"I think one of her greatest strengths is that she is a relationship builder not only with the kids but also with the parents. She is a very effective communicator always informing them of things that are going on in the classroom ways that they can become involved and also ways they can help the children out," Bray said.
In winning $319, Mrs. Lakin used several words to express her gratitude, including "amazed, surprised, and grateful."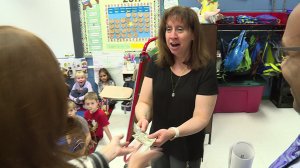 "My children are amazing. I love what I do. This is my 19th year of teaching it's my 10th year at Hampton Cove Elementary School and they just amaze me every day. It's a new experience every day and working with them is just wonderful."
Tell us about a public school teacher you feel deserves recognition. Send us your nomination today! Honorees will receive $319 for their classroom. Nominees must teach in K-12 public schools in the WHNT News 19 viewing area.