This is an archived article and the information in the article may be outdated. Please look at the time stamp on the story to see when it was last updated.
HUNTSVILLE, Ala. - How would you like to start off every day with a hug and smile?
Fans of Kay Crook say the Chaffee Elementary School teacher makes it her goal to ensure each student starts the school day on a positive note.
"Starting the day this way can turn around a whole day for some of these kids and her kindness has not gone unnoticed," said Carrie Kimbel who nominated Mrs. Crook for our weekly "Tools for Teachers" award.
Principal Christina Spivey is proud to have Crook on her teaching staff.
"Mrs. Kay Crook is our collaborative teacher here. She has been teaching for 28 years and she is a very integral part of our faculty and staff," said Spivey.
Mrs. Crook was excited to win.
"Oh my gosh!" said Crook said after receiving $319 for her classroom. "That is so exciting! Thank you so much!"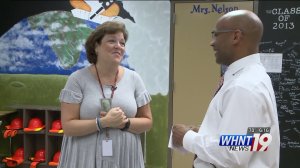 "Thank you so much! It's so sweet," said Crook tearfully. "I just love the kids. Working with kids that's all I have wanted to do."
Congratulations to Mrs. Kay Crook, a WHNT News 19 Tools for Teachers honoree!
Tell us about a public school teacher you feel deserves recognition. Send us your nomination today! Honorees will receive $319 for their classroom. Nominees must teach in K-12 public schools in the WHNT News 19 viewing area.