This is an archived article and the information in the article may be outdated. Please look at the time stamp on the story to see when it was last updated.
DEKALB COUNTY, Ala. - Looking for a pick me up? Look no further than Geri Johnson. She teaches second grade at Wills Valley Elementary School in Fort Payne.
It's no secret teaching is a demanding job,  but Principal Sally Wheat says Mrs. Johnson has enough energy for everyone. "Gerri Johnson is a cheerleader; she is a cheerleader personality.  She rallies behind her kids to help them succeed in any way that she can. So I think she is going to be very excited about this award," explains Wheat.
Wait, did she say cheerleader? Someone I can relate to!
As it turns out, this teacher's personality is as colorful as her school.
"I am so excited. I truly love what I do, so to be rewarded in any way is really nice. I have to say, the biggest reward is just getting to come here and work with my great kiddos and just to be a member of the faculty here." said Johnson.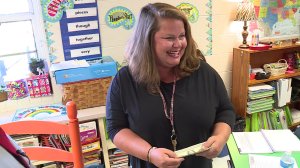 And what about winning $319?
"Overwhelmed. I feel like I am not really deserving of that, but I appreciate it. It's a compliment. Like I said, I love what I do. I love the children that I work with. I love the staff that I work with. I love my principal Mrs. Wheat. We have just a wonderful group here. I feel like I'm just blessed and this is just another blessing for me and i appreciate it." said Johnson.
Tell us about a public school teacher you feel deserves recognition. Send us your nomination today! Honorees will receive $319 for their classroom. Nominees must teach in K-12 public schools in the WHNT News 19 viewing area.