This is an archived article and the information in the article may be outdated. Please look at the time stamp on the story to see when it was last updated.
MARSHALL COUNTY, Ala. –  Say "hello" to Albertville Primary's Mrs. Alyssa Rains.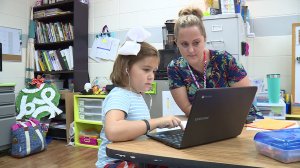 "Mrs. Rains is our first grade teacher.  She has been here for several years and actually she is a super motivator for her students." said assistant principal Candy McCullars. "She works in a large classroom with another teacher as well.  So, there's lots of opportunity to interact with kids on small group individual basis."
McCullars calls movement the hallmark of this classroom. "There are always kids moving.  There are activities going on.  There are different stations moving around. She is working with students."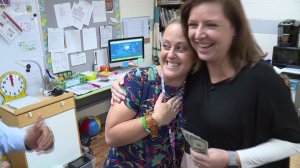 When we found Mrs. Rains and awarded her with $319, she was beyond surprised!
"Yeah!! This is so exciting!" said Mrs. Rains.
She sees this as more than just an award, but an opportunity. "I feel extremely blessed and so appreciative. This is a wonderful opportunity. So thank you so much. Our kids will really benefit from it." said Mrs. Rains.
She's also quick to point out that when it comes to this class, it's a team effort.
"I have a collaborative teacher. It has been a wonderful experience to have someone working with me."
Tell us about a public school teacher you feel deserves recognition. Send us your nomination today! Honorees will receive $319 for their classroom. Nominees must teach in K-12 public schools in the WHNT News 19 viewing area.