This is an archived article and the information in the article may be outdated. Please look at the time stamp on the story to see when it was last updated.
LAUDERDALE COUNTY, AL - After spending time at Forest Hills Elementary, we think everyone would love to have Mrs. Rebecca Sullivan as their teacher.
Mrs. Sullivan teaches first grade.
And it turns out, she credits one of her own childhood teachers for inspiring her love of learning.
"This goes all the way back to Mrs. Sibly. I know some of my peers didn't know what they wanted to be when they grew up and I always knew I wanted to teach," said Sullivan.
Today Sullivan is confident she is right where she needs to be.
"This is my calling, it's not a job. They [kids] are just my passion and this is what I am called to do. "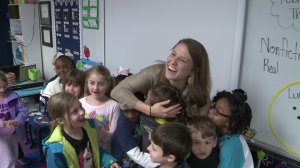 Principal Michael South says one word comes to mind when describing Mrs. Sullivan's classroom.
"She makes learning fun," said South.  "She absolutely loves teaching. Because she loves it so much, the children love it."
And we didn't have to go far to learn more about who nominated this beloved teacher. It was a parent of one of her students.
"I wasn't surprised when I found out what mother had nominated her and she was so excited that she was selected and it makes me feel good when teachers are -- it is an encouragement to them," said Principal South.
"I think it sends a message that we are doing some good things and Forest Hills is a great place, but Mrs. Sullivan makes it great as well."
Tell us about a public school teacher you feel deserves recognition. Send us your nomination today! Honorees will receive $319 for their classroom. Nominees must teach in K-12 public schools in the WHNT News 19 viewing area.