This is an archived article and the information in the article may be outdated. Please look at the time stamp on the story to see when it was last updated.
JACKSON COUNTY, Ala - It's time to get a little froggy!
Emily Smith teaches Science at Pisgah High School in Jackson County.
Assistant Principal Whitney Smith says this educator wears quite a few hats. "She is a wonderful educator. She teaches our anatomy class, she teaches our biology class, she is in charge of our robotics team.  She is also the leader of our advocacy school program."
Whitney Smith is no only the assistant principal, but she's also a previous Tools For Teachers Winner. So she knows how much that extra money can help. "It's a great honor and I realize lots of our teachers here take money out of their own pockets to invest in our children and our students and its very fitting for her to be rewarded for doing so." said Whitney.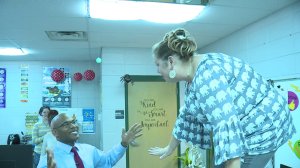 And she warned us to expect the unexpected when walking into Mrs. Smith's classroom. "She is on top of her desk. She has steps up to her desk and she does whatever it takes to get the students attention." said Whitney.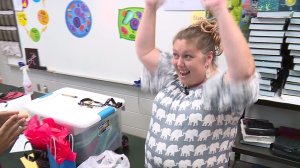 When we arrived, Whitney Smith was right! And Emily Smith was pumped!
"Oh great! I am so excited! This is wonderful!" said Smith. "What brings me to school is the excitement seeing them learn a new concept and being somebody they can love on and I love to love kids and that's the best part of my day."
And one of her kids, Shelby Williams, nominated Mrs. Smith for the Tools For Teachers Award.
Shelby shared why she thinks this terrific teacher is so deserving of recognition.
   "Mrs. Emily Carol Smith, otherwise known as my best friend, is an indescribable lady. She goes above and beyond for her students. Never has anyone met a woman this amazing. Mrs. Smith treats us like her own. You can come to her for anything and she's happy to give you advice. Ask anyone at Pisgah, and they'll tell you how much they love Smith. We love Smith, and Mrs. Smith loves us."
Tell us about a public school teacher you feel deserves recognition. Send us your nomination today! Honorees will receive $319 for their classroom. Nominees must teach in K-12 public schools in the WHNT News 19 viewing area.