This is an archived article and the information in the article may be outdated. Please look at the time stamp on the story to see when it was last updated.
TUSCUMBIA, Ala. - When Kayla Woodruff enters her classroom, she hopes to make an impact every day.
"I've always wanted to be a teacher even when I was very little," said Woodruff. "I just want to make a difference in the world and this is one of the best jobs to be able to do that."
Mrs. Woodruff teaches first grade at Colbert Heights Elementary School in Tuscumbia.
Principal Alvie Shaw credits Mrs. Woodruff's fondness for her students as a key part of her teaching success.
"She has a great love for our students," said Shaw. "She does a great job with technology and is a team player."
Angel Sharpston nominated Mrs. Woodruff due to the positive impact she has had on her daughter Alyssa.
"I had Alyssa a few years ago," Woodruff explained, "and she is an amazing student and she was very sweet and loving to everybody. I will never forget her."
How does it feel to win $319?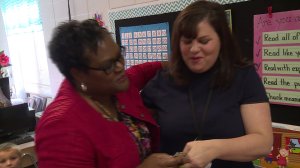 "Wow, what an encouragement! That is so awesome. Thank you," said Woodruff.
Congratulations to Kayla Woodruff for winning Tools For Teachers!
Tell us about a public school teacher you feel deserves recognition. Send us your nomination today! Honorees will receive $319 for their classroom. Nominees must teach in K-12 public schools in the WHNT News 19 viewing area.