This is an archived article and the information in the article may be outdated. Please look at the time stamp on the story to see when it was last updated.
MARSHALL COUNTY – Kevin Hendrix, a teacher at Brindlee Mountain High School, proves it's never too early to stand out. His principal, David McCollum, noticed that right from the start.
"He is a first-year teacher. Bright eyed, bushy tailed, really cares about the kids," said McCollum.
The Brindlee Mountain High School principal says two words come to mind when talking about this week's Tools For Teachers honoree, Kevin Hendrix.  One is energy, the other is passion.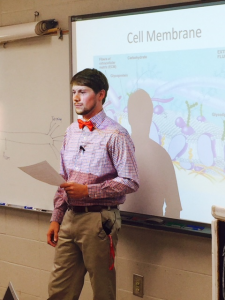 That passion led McCollum to charge his first year teacher with another important assignment. He asked Hendrix to revamp their spirit club.
"He, along with our nurse, have taken the bull by the horns, and we've got over 60 kids in the spirit club on Friday nights," says McCollum.
Mr. Hendrix goes the extra mile to make sure his students are set up for success.
McCollum explains, "I have seen Mr. Hendrix come out of his pocket multiple times to get his classroom ready."
In getting $319, Mr. Hendrix was overjoyed! "I'm so excited and it's an honor to be nominated for this," said Hendrix.
He credits his principal for helping him through his first year in the classroom.
"He has been an awesome and amazing principal and he has been guiding me and leading me the whole way," says Hendrix.
"I think he has a very bright future ahead of him and we are glad to have him," McCollum says.
Congratulations, Mr. Hendrix!
Tell us about a public school teacher you feel deserves recognition. Send us your nomination today! Honorees will receive $319 for their classroom. Nominees must teach in K-12 public schools in the WHNT News 19 viewing area.