This is an archived article and the information in the article may be outdated. Please look at the time stamp on the story to see when it was last updated.
MARSHALL COUNTY, Ala – There is a reason to celebrate at Brindlee Mountain Primary.
That's because of Kindergarten teacher, Amanda Howse.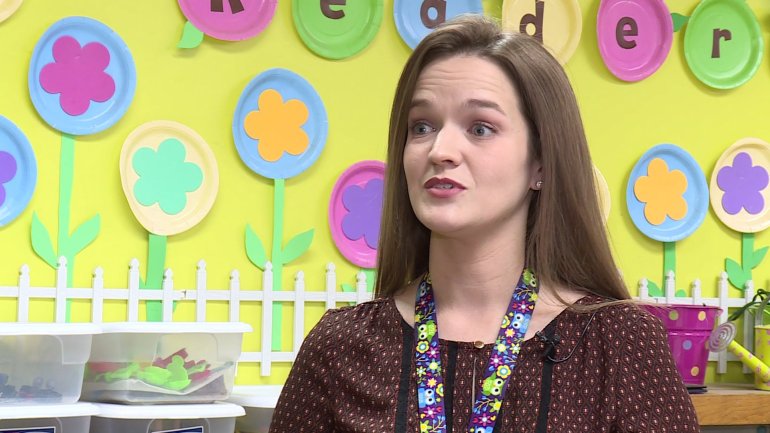 "All of our teachers do an excellent job but it gives you sense of fulfillment as an administrator that one of your teachers is recognized by someone in the community for doing an excellent job in the role that they fulfill." said Principal Terry Allen.
I asked Mr. Allen how she would react in winning $319.
"She is going to die because she doesn't like to be in the lime light and she going to be totally blown away by this."
In winning the money for her class, "Very humble, I am shocked. This has never happened to me before but I do love these babies. Kindergarten is my favorite, I never want to teach anything else but this grade. This is what I wanted when I started 11 years ago and plan on retiring when I get out of here in Kindergarten." said Amanda House.
Nomination
Sophia's mom nominated Ms. Howse. Sophia and her teacher share an extra special moment each day. "I get a hug and a kiss every afternoon before she gets on the bus, sometimes she cries because she wants to go home with me so she makes my day super happy. All of them do." said Howse.
These five and six-year old students are in the great hands.
"They all stick to me like glue. These are my buddies. It's a big ole family here that is for sure." said Howse.
Tell us about a public school teacher you feel deserves recognition. Send us your nomination today! Honorees will receive $319 for their classroom. Nominees must teach in K-12 public schools in the WHNT News 19 viewing area.