This is an archived article and the information in the article may be outdated. Please look at the time stamp on the story to see when it was last updated.
BROWNSBORO, Ala. (WHNT) - The Great Diaper Drive is back! WHNT News 19, along with the Food Bank of North Alabama, Rocket City Mom, iHeart Media and Crestwood Maternity Center, is taking action to collect diapers and wipes for families in north Alabama. The need is big. One business owner knows first hand how important and expensive diapers can be for parents and she's joining the cause!
At Hampton Cove Preschool, diapers are changed often.
"We actually change diapers every two hours," explains Melissa Isaac, the owner and director of Hampton Cove Preschool. "Obviously, if they need to be changed more often than that, we do so."
Those frequent changes add up.
"If they're here seven or eight hours a day and we're changing diapers every two hours and they're here all week and that doesn't include what they go through at home or over the weekend," describes Isaac. "So, it definitely adds up quickly."
Isaac has seen that load can be hard to carry for some parents.
"A lot of times, parents know that they need to change their children more frequently, but because those diapers are so expensive, often times they wait longer than they normally would," shares Isaac. "If we can get some more diapers into their hands and help make it a little easier for them, that's going to help those diapers be changed more frequently and limit some of those issues that come along with it."
Those issues can be exposure to rashes, infections and negative impacts on the physical, mental and economic well being of children and parents.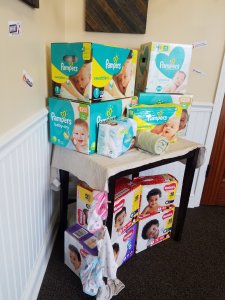 To help, Isaac is donating $500 and making the most of the school's location on Highway 431 heading into Huntsville. They've set up a display at the school's entrance to encourage donations.
"I know a lot of parents drive past us in the morning on the way to work," says Isaac. "We would be happy to have you drop them off here and we'll get them where they need to go."
Isaac challenges other business owners to do what they can too.
"I think anybody that can participate should definitely look into doing so."
The Great Diaper Drive is going on now through October 19th. We've set a big goal this year - 200,000 diapers and wipes. We are confident our community can do it!