This is an archived article and the information in the article may be outdated. Please look at the time stamp on the story to see when it was last updated.
ALBERTVILLE, Ala. (WHNT) - More often than not, good wins over bad.  Some children in Albertville are proof.  They did their best to make up for the mistakes of grownups who should know better.
Last week, a vandal broke into the Liberty Learning Foundation's tour bus, causing up to $30,000 in damage.  Students at Albertville Primary School learned of this and jumped into action.
"On Wednesday, we started seeing these reports from a school we had just been to in previous week in Albertville," said Tawanna Vickers, with Liberty Learning Foundation.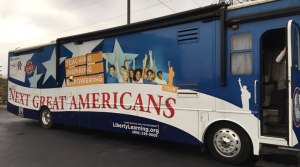 The children were incensed that someone had trashed the foundation's iconic blue bus, which the foundation uses to go to different schools and teach leadership skills.  A suspect has been arrested in the case.
"We started blogging through videos till we found some videos the kids made online asking their community and their school to raise money to get the bus back on the road to carry out the mission," said Vickers.
In all, 440 second graders at Albertville Primary School wrapped their tiny strong arms around the bus and raised $1,000 dollars to make the Liberty Learning bus whole.
"For them to do this random act of kindness, it's a testimony for what our kids stand for," said Vickers.  "We were on an emotional high and even though our bus is destroyed and taped up... sorry I'm emotional.  It's an amazing testimony to what we fight for every day."