This is an archived article and the information in the article may be outdated. Please look at the time stamp on the story to see when it was last updated.
HUNTSVILLE, Ala. – Problems with social media, academic stressors and bullying are on the rise, and one local nonprofit is working to prevent these growing issues right here in Madison County. Huntsville Hospital Foundation is hosting the SPEAK Parent Town Hall, Tuesday, Sept. 11, at the VBC Mark C. Smith Concert Hall. The event begins at 6 p.m., and is free to the public.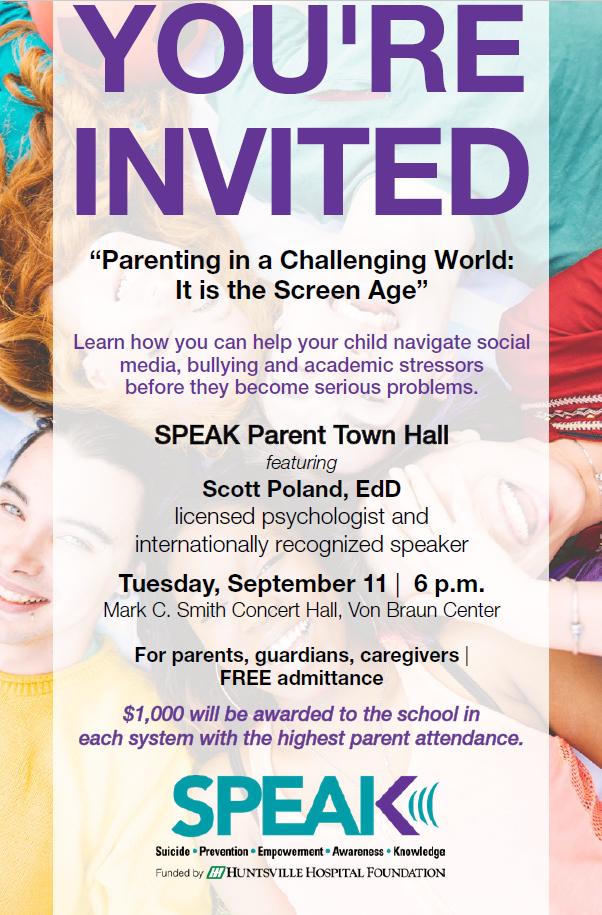 Parents from across Madison County are invited to attend and learn from internationally recognized speaker Scott Poland, EdD. Dr. Poland's presentation, "Parenting in a Challenging World: It is the Screen Age," will focus on social media, bullying, school safety, at-risk behaviors, and suicide awareness and prevention. Attendees will learn how to navigate these issues with their children before they become serious problems.
"Suicide is the third leading cause of death for ages 15 to 24, and the fourth leading cause of death for ages 10 to 14," said Candy Burnett, Huntsville Hospital Foundation president. "Whether your child is a high school senior, or just starting Kindergarten, this Town Hall is meant for you. The event is free, and you truly can't afford not to attend."
The SPEAK Parent Town Hall is supported by Madison City, Madison County and Huntsville City Schools, and $1,000 will be awarded to the school in each system with the highest parent attendance at the event.
This event is adults only and admittance is free. To learn more, visit huntsvillehospitalfoundation.org.
About SPEAK
SPEAK — Suicide. Prevention. Empowerment. Awareness. Knowledge. — was established to address the increasing incidence of suicide in our community and to increase awareness about mental illness. SPEAK provides resources on topics such as suicide, feelings, self-esteem, bullying, depression, anxiety and social media through the SPEAK North Alabama mobile app and other initiatives.
About Scott Poland, EdD
Dr. Scott Poland is a Professor at the Center for Psychological Studies and the Co-Director of the Suicide and Violence Prevention Office at Nova Southeastern University in Fort Lauderdale, Florida. He is a nationally recognized expert on youth suicide, school crisis and prevention and has authored five books on these subjects. He is a founding member of the National Emergency Assistance Team and has personally assisted school communities after 16 school shootings and numerous suicide clusters.
About Huntsville Hospital Foundation
Huntsville Hospital Foundation is a not-for-profit organization, established in 1978 as the fundraising arm of Huntsville and Madison Hospitals. It works to strengthen relationships between the hospitals and the community. The Foundation accepts gifts—both individual and corporate—on the hospitals' behalf, and works to fund present and future equipment and program needs. For more information, call (256) 265-8077 or visit huntsvillehospitalfoundation.org.