This is an archived article and the information in the article may be outdated. Please look at the time stamp on the story to see when it was last updated.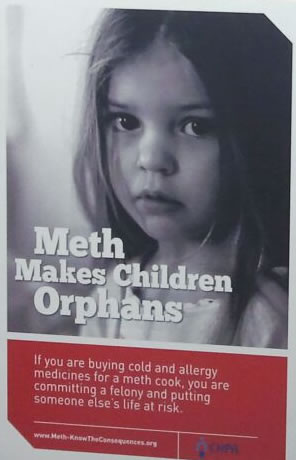 SECTION, Ala. (WHNT) – You may not have heard the term 'smurfing' before today, but law enforcement officials say it's all too familiar to them.  They're announcing a new crackdown on people who supply drugs to others who make methamphetamine.
Law enforcement leaders in northeast Alabama held a news conference Wednesday at Section Pharmacy to discuss a new campaign designed to cut down on this practice.  The group included the District Attorneys of Jackson and DeKalb counties, the Jackson County Sheriff's Office, Scottsboro Police Department and Fort Payne Police.
All said they hope the new campaign will have statewide impact.
'Smurfing' is a term used when a person or group of people stockpile items used to make meth, such as Sudafed, and then re-sell the drugs to meth-makers.  It's now a felony to 'smurf'.
Now, to buy drugs containing pseudoephedrine, you must show a valid driver's license or ID.  A military ID or passport is also allowed.  You will only be allowed to buy 7.5 grams of pseudoephedrine a month, a drop from nine grams per month.  These drugs will only be sold in licensed pharmacies.
If you have certain drug convictions on your record, you could be banned from buying pseudoephedrine for seven to 10 years, even if you have a prescription for it.
If you See Meth, Stop Meth.  You can send an anonymous tip online, or call 1-866-303-METH.  See Meth, Stop Meth is a division of Kids To Love.