This is an archived article and the information in the article may be outdated. Please look at the time stamp on the story to see when it was last updated.
GUNTERSVILLE, Ala. (WHNT) —  While rain kept most people indoors some determined visitors to Lake Guntersville decided to brave the rain for some water fun.
Wet weather impacted local events and sent most people running for cover but on the lake  the rain simply added to the tradition of spending time together for a group of friends from Arab and Huntsville this Fourth of July weekend.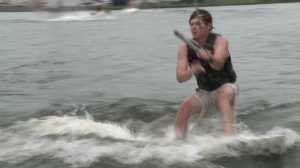 "We are just finding pockets of light rain and making the best of it, it's just nice to be out here having the day off and hanging out with great friends, " Kade Harris told WHNT News 19 Friday.
The group was not alone on the lake, several other boaters braved the choppy water and interment rainfall for some fun on the water.
Local restaurants say it is too early to tell if their sales will be impacted by the bad weather over this weekend but say they have stayed steady so far.