This is an archived article and the information in the article may be outdated. Please look at the time stamp on the story to see when it was last updated.
For the holiday season we've teamed up with University Pickers to bring you several Pinterest-inspired gift ideas you can make for friends, family, or for yourself.
Rust Letters
If you're looking to add an antique feel to your home decor, an easy way to do this is to create your own rusted looking decorations.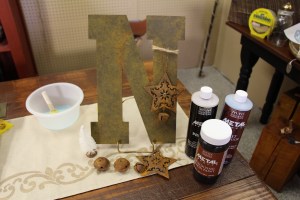 You'll need: wooden letters (or whatever item you want to give an antique touch), Modern Masters Metal Effects primer, Modern Masters Metal Effects paint, Modern Masters Metal Effects Rust Activator, a paint brush.
Materials are estimated to cost about $30.
On a difficulty scale of 1-5, this rates a 3. You've got to give your project time to dry in between steps, and sometimes getting the rusted look just right takes a little practice.
Make sure to follow @whntnews19 on Pinterest!