This is an archived article and the information in the article may be outdated. Please look at the time stamp on the story to see when it was last updated.
For the holiday season we've teamed up with University Pickers to bring you several Pinterest-inspired gift ideas you can make for friends, family, or for yourself.
Key Jar
The Key Jar could be used for a variety of things, but one use we really like is the idea of storing conversation starters. You can decorate the jar so it looks nice among your things, but you'll want to keep it in an easy to reach place so you can use it during dinner time or when you and your family are sitting around. You can print out some conservation topics, and pull one out at random. It's a great way to get your family talking and improve that quality time.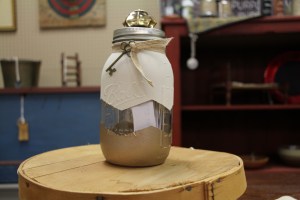 You'll need: a mason jar, shape tape, paint, a paintbrush, power drill, small knob, ribbon or other decor, and conversation starter printouts (you can find some ready to print on Pinterest like this).
Materials are estimated to cost about $30.
On a difficulty scale of 1-5, this rates about a 2. The need for a power drill makes this one slightly more difficult.