This is an archived article and the information in the article may be outdated. Please look at the time stamp on the story to see when it was last updated.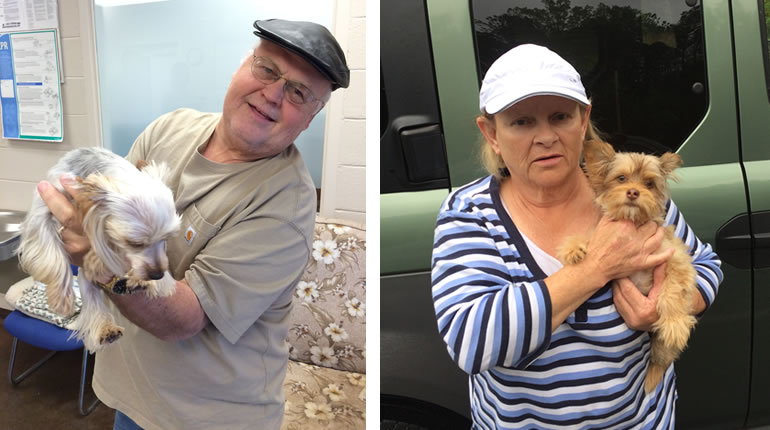 SCOTTSBORO, Ala. (WHNT) – Two people are happy to have their stolen dogs back, and police say a man is in jail for taking their Yorkie puppies.
Scottsboro Police recovered the dogs on Wednesday, April 15 and returned them to their owners today.
The case started back on January 7.  Police say Danny Sanders, of Scottsboro, had listed a Yorkie puppy on Craigslist to sell.  A person contacted Sanders, offering to buy the dog.  They texted back and forth for a few days and agreed to meet at local business for the sale.
Sanders said a white male driving a white Dodge Avenger showed up and talked with him.  The man asked if he could put the dog in his car to see if it got along with his dog before he bought it.  Sanders agreed, and after a minute or two, the suspect closed his door and drove off with the dog without paying.  Sanders filed a report for second-degree theft.
Scottsboro Police worked on the case, but didn't have much to go on at the time.  They later discovered a man with a white Dodge Avenger committed the same type of theft in Boaz.  Becky Garmany filed a report there about a similar case.  In that case, she was struck by the man's vehicle as he drove off.  Garmany, 62, suffered injuries to her hand and a rib.
Police continued to investigate and developed a suspect, and tracked the car to an address in Athens.  On Wednesday, April 15, both departments went to the 16000 block of Becky Street in Athens and found the car, the suspect and both of the stolen dogs.
The suspect, Charles Edmond Dryer III, is charged with second-degree theft.  The 33-year-old is being held in the Jackson County Jail and faces charges in Boaz next.
Police returned both of the dogs to their owners on Thursday.