This is an archived article and the information in the article may be outdated. Please look at the time stamp on the story to see when it was last updated.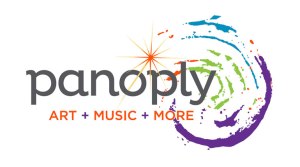 HUNTSVILLE, Ala. – The Arts Council, Inc. announced Friday the Indigo Girls and The Secret Sisters will perform at the 33rd Panoply Arts Festival scheduled for April 24-26, 2015 in downtown Huntsville.
Altogether, the three-day festival will feature more than 40 local bands and 85 visual arts from across the nation.  Panoply is a celebration of Huntsville's arts scene and is a fun weekend with all kinds of things to entertain the family.
"Panoply is a dynamic blend of music, visual art, dance performances and more," said Allison Dillon-Jauken, Arts Council executive director. "It is truly the Southeast's premier arts weekend where Huntsville's innovative spark shines as the community comes together to produce the Rocket City's largest downtown event ."
The festival was given the name Panoply at its inception in 1982, and continues to live up to the word's definition of a magnificent array. Panoply 2015 will celebrate the best in local and regional art, music and more with 5 performance stages, more than 80 exhibiting visual artists, international arts and culture displays and demonstrations, and interactive programming for all ages.
The Arts Council team announced the 2015 Panoply music lineup. Truly featuring something for everyone, the festival's new staggered schedule allows Panoply attendees to enjoy even more music at the event. More than 65 Arts Council members and local performers will entertain across 5 performance areas in the park, joined by two major visiting artists who embody both the well-loved and new sounds of Southern music.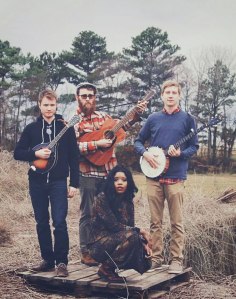 Kicking off on Friday, April 24th at 5:00 p.m., the festival will feature a wealth of local talent to begin the night. Music fans can grab a local craft brew and enjoy local legends Big Daddy Kingfish, followed by the up-and-coming Ashlyn Maine on the Center Stage. The World Stage will feature Marc Gunn and Black Market Haggis, with Huntsville favorites Winslow Davis Ensemble, Reginald Jackson and Friends and the Army Materiel Command Band on the Valley Jubilee stage.
Friday night's featured performers take the Showcase Stage on the rear of the Huntsville Museum of Art beginning at 6:00 p.m. with Unknown Lyric. Comprised of Jeremiah Turner on acoustic guitar and Kevin Grayson on violin, Unknown Lyric is an acoustic classical soul duo out of Atlanta, GA. Making instrumental music cool again, the duo implements classical Beethoven with urban rhythms and grooves creating a musical experience like none other. Unknown Lyric's traditional melodies fused with new beats make them the perfect opener for Friday's headliner, Florence natives The Secret Sisters.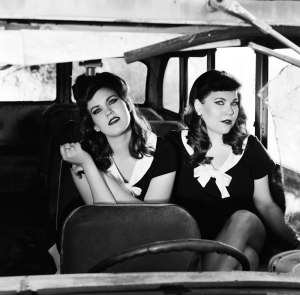 The Secret Sisters initiate many new traditions on their second full-length album, Put Your Needle Down, produced by the legendary T Bone Burnett for Republic Records. The duo of Laura and Lydia Rogers has certainly come a long way from their critically acclaimed 2010 self-titled debut and the new record embraces a myriad of styles. The sisters focused on songwriting this time around and their growth is obvious within the music. With a little guidance from the legendary Burnett, they harnessed a newfound spark, and it fuels the album and their live show. Stirring up a gumbo of country, Americana, blues, folk and gospel; The Secret Sisters full band will bring a 90-minute set to wrap up the festival's Friday evening programming with fireworks immediately following their set.
Saturday highlights Huntsville's own throughout the day as the festival features the best in area dance, choral, theatrical and musical performances. Favorite Rocket City bands like Beasley Brothers, The Dawn Osborne Band, Jed EYE and Bourbon and Shamrocks will play for Panoply attendees. Saturday night on the Showcase Stage local band Denim Jawbones will play blues, pop, rock and groove. Featuring guitarist and singer Jason Cunningham, drummer Caleb Rogers and bassist Tucker Hunter, Denim Jawbones have been seen at many downtown events and venues. Drawing their influence from artists such as John Mayer and Stevie Ray Vaughn, the group has become a popular staple on the Huntsville music scene.
To close the Saturday night lineup, the Panoply Arts Festival will welcome Georgia-based pop duo the Indigo Girls. With twelve original studio albums, three live records, various Greatest Hits compilations, a Rarities and a Christmas record to their credit, the iconic duo continues to challenge itself creatively, over and over again, adding to a body of work that contains such contemporary classic songs as Galileo, Shame on You, Closer To Fine, Kid Fears, Love of Our Lives, Making Promises, Get out the Map, Moment of Forgiveness, Least Complicated and Go. After numerous Grammy nominations and awards and gold and platinum certifications and decades of touring in clubs, arenas and everything in between, Indigo Girls remain active and relevant, always viewing their music as a fresh opportunity for exploration and discovery. Their next album will be released in June.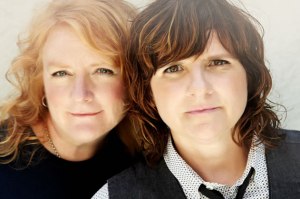 "The Indigo Girls' constant touring and writing, as well as their service as staunch champions for arts advocacy, have earned them a dedicated following over the years," said Dillon-Jauken as she announced the festival lineup. "So many artists who launched their careers in the late 1980s have disappeared from the music scene. In contrast, the Indigo Girls continue to share creative evolution in the studio and on stage, which has earned them the lasting respect and devotion of a multi-generational audience."
Sunday sees more local favorites in the park with plenty of performances throughout the afternoon and evening.  Panoply's live entertainment will come to a close Sunday night with hometown stars Kush, Microwave Dave and Mambo Gris Gris, complete with a full horn section, rounding out the Festival on the World, Jubilee and Showcase Stages. Panoply returned to open-air festival seating last year and festival patrons are encouraged to bring chairs and blankets to sit on as they enjoy the lineup of performers.
One key tradition of the festival is the commissioning of a piece of original artwork to serve as the poster for the event. For the 2015 festival, Arts Council leadership chose local mixed media artist Gina Percifull to create a design to represent the 33rd Panoply. Ms. Percifull is an established artist based out of Maysville, Alabama who has a devoted following of collectors throughout the Southeast. Her work spans several mediums, with a focus on assemblage, collage and using recycled and reclaimed materials, but the Panoply artwork is a painting in her signature style. Titled Phantom Deer Joins the Show, the work will also be featured in graphic form on the festival t-shirts, something The Arts Council hasn't done in ten years.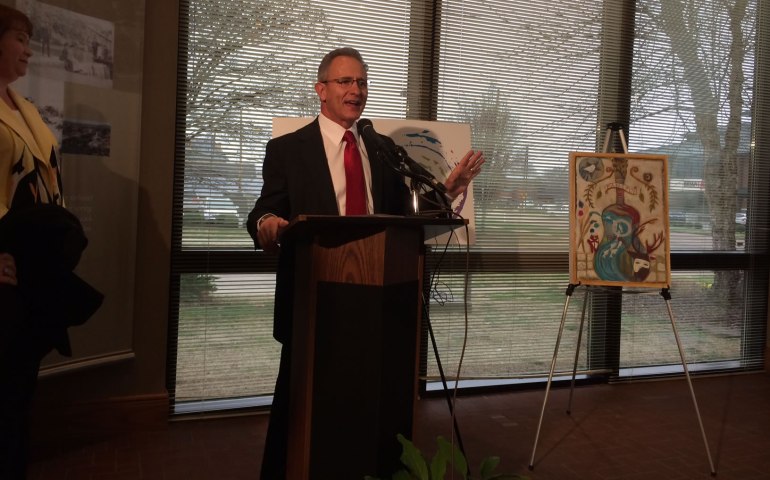 "Gina Percifull is a fantastic artist who embodies Huntsville's image of innovation with a funky, smart vibe," said Steve Johnson, president of The Arts Council's Board of Directors. "Her reuse of wood and other salvaged materials in her artwork is a great representation of our community's focus on sustainability, and the piece she's created for Panoply is both fresh and classic. We at The Arts Council are honored to showcase her talent through our poster and t-shirt, and hope the public visits her booth in the Art Marketplace during the festival weekend."
Presented by TOYOTA Motor Manufacturing of Alabama, the juried Art Marketplace at Panoply is one of the most popular features of the festival. Showcasing 85 fine artists from 11 states, the Marketplace provides prime shopping in a beautiful setting over the Monroe Street bridge. Local art enthusiasts can take advantage of the festival's First Dibs program, giving ticket buyers the opportunity to shop the marketplace before the general public arrives. First Dibs tickets can be purchased on artshuntsville.org or by calling (256) 519-2787.
In addition to great music and art, Panoply offers much more for festival lovers.  Other featured programming announced today for the 2015 weekend event included interactive discoveries throughout the festival. In 2014, Panoply's popular children's art activities were opened for the first time to all ages and highlighted STEAM (science, technology, engineering, art and math) lessons. The 2015 will continue and expand on the STEAM theme, with 8 new interactives where festivalgoers will have a chance to discover scientific lessons through art such as magnetic force, optical illusions and geometry.
"Our STEAM interactives are open to all Panoply attendees and totally free of cost once you're inside the festival. We're excited to watch Panoply patrons stretch their creative muscles as they explore science, technology, engineering and math through these fun art projects," said Dillon-Jauken.
Other interactive areas of the festival include Arts in Action, the World Discovery Zone and the Creative Playspace. At the Arts in Action tents, Panoply attendees can witness the creative process of artists from across the Southeast. For the 2015 festival, ironsmiths from Sloss Furnaces National Historic Landmark in Birmingham will do live iron pours onsite. Participants can create their mold in sand, transforming the iron as it pours and then cools into their own small iron tile. Most of the demonstrations are included in the cost of the Panoply ticket, with an additional fee charged to pour your own tile with Sloss Furnace.
Panoply's World Discovery Zone and Creative Playspace, both popular new additions in 2014, will return for the 2015 event. The World Discovery Zone will celebrate global cultures with two interactive tents, demonstration areas featuring local international groups and a performance stage. The Playspace is an area open to all ages to enjoy large-scale games, dance lessons and more and will be located on the lawn behind the Huntsville Museum of Art east of Big Spring Park.
Friday, April 24th will be the 4th Annual Panoply Military Salute Night, presented by Boeing. Featuring a performance by the U.S. Army Materiel Command Band, the evening's admission will be free to active duty military, Armed Forces reserves and their dependents.
"All of us on The Arts Council's Panoply team recognize the valuable contributions the men and women in our military make to the Huntsville community on a daily basis, as well keeping us safe around the globe," said Dillon-Jauken. "We welcome our servicemen and women and their families to join us to relax and enjoy all that Panoply has to offer."
Craft beer and wine will also return to Panoply 2015 in a new location near the Eternal Flame on Williams Avenue in the Festival Food Zone. With a focus on the craft of brewing, this area brings an adult flavor to Huntsville's largest downtown event. The 2015 location is more centrally located with close access to all 3 main performances stages.
Advance one day tickets for the festival are now available online as well as the "First Dibs" Panoply Art Marketplace preview party for area art collectors. Daily admission to Panoply will be $10.00 at the gate; tickets purchased online will be sold at a 25% discount for $7.50 per person until midnight Thursday, April 23rd. Children 12 and under are admitted to the festival free of charge.
"Panoply's 33rd year continues a long tradition of art, music and more, featuring outstanding local and regional performers, excellent fine artists and many exciting ways for festival patrons to interact with the arts," said Dillon-Jauken. "As a creative community, Huntsville is the best possible city to host a festival as diverse and unique as Panoply, and we look forward to celebrating the arts with our community April 24th, 25th and 26th in Big Spring Park."
The festival has reorganized the volunteer staff and for the first time is managed by a team of 5 area chairs: Ann Lee, Operations; Cathy Callaway, Special Programs; Leslie Gates, Stage Management; Rob Bridges, Site; and Yvonda Best, Interactives. As Huntsville's largest community event, Panoply relies on more than 1,800 community volunteers. The Arts Council Board of Directors, volunteers and staff are recruiting volunteers at www.artshuntsville.org and on the Council's Facebook page. More information about The Arts Council programs and the 2015 Panoply Arts Festival is available at www.artshuntsville.org
-Information provided by The Arts Council, Inc.