This is an archived article and the information in the article may be outdated. Please look at the time stamp on the story to see when it was last updated.
Were you extra busy this week with springtime things? Were you more disconnected than usual when it comes to the news? WHNT News 19 morning anchor and technology reporter Michelle Stark has you covered. Here are some of the week's most viral, talked-about stories, in case you missed it!
Big Spring Park's new look
Huntsville City Leaders are celebrating the reopening of a downtown gem; Big Spring Park. There's a lot to like about the new $2 million landscape including wider walkways, an updated fountain and more. Here's an overview of the changes, with some sweet aerial views courtesy of Sky19...
The western portion of the park is opening just in time for many spring and summer events planned for the area, including Paddle the Canal and Panoply.
What was lost, remembered
As the six year anniversary of the April 27th, 2011 tornado outbreak approaches, a new monument for victims is being constructed in Mt. Hope.
Lawrence County leaders and citizens have talked about erecting a monument for years. Now Mt. Hope resident Misty Henderson tells WHNT News 19 it's finally going to happen. She remembers the destruction of that day vividly.
"It probably lasted thirty seconds to a minute," Henderson said. "When we came out, the house was pretty wrecked up. We were able to get out without having a scratch on us."
T-shirt sales and other fundraisers have been used to bring in money for the project. The monument will reportedly include the names of the 14 lives lost across Lawrence County. Click here to read more about the effort and find out how you can be involved.
Answering the call
A Madison woman is answering the call to care for a child fighting for his life in a neonatal intensive care unit.
Danielle Smiley, in her own words, always wanted to care for children in need. She knew she was entering motherhood shortly after she answered a life changing phone call.
"My heart has been this for as long as I can remember," Smiley said.
The call came from the hospital, merely days after she obtained her license to foster through Lifeline Children's Services. What's unfolded next is pretty amazing. Click here to see how her story has unfolded...
Should they get the money?
The Pennsylvania McDonald's employees who tipped off police, then tried to stall Facebook murder suspect Steve Stephens, are being called heroes on social media.
People quickly took to Twitter, saying that the workers deserve the $50,000 reward for finding and helping lead police to Stephens. The man reportedly killed 74-year-old Robert Godwin Sr. in Cleveland Sunday, then posted video of the horrific crime on Facebook.
Not everyone agrees the employees should get the money though. Click here to read up on the debate.
The giraffe calf name debate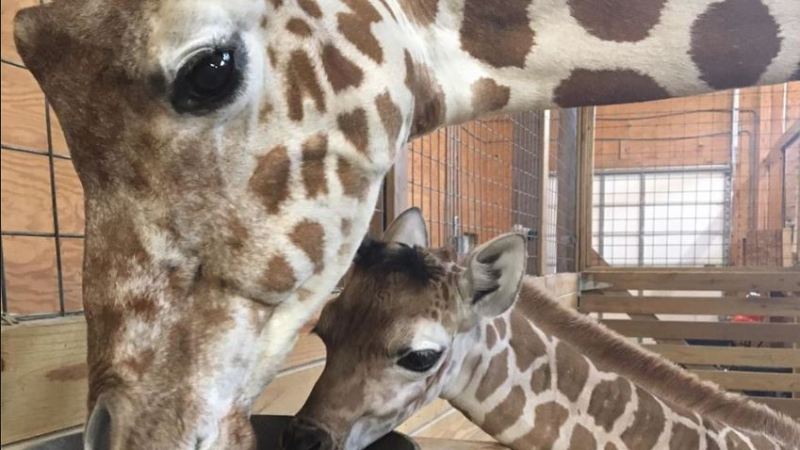 Speaking of debate, there's a big one underway on social media, over what April the Giraffe's calf should be named! April the Giraffe's baby boy still needs a name and Animal Adventure Park in upstate New York has turned the naming process into a fundraising effort.
Unity, Patches and Apollo are all among the top ten names being voted on by the public. Click here to see the full list.
Votes are $1 and proceeds go to the park, giraffe conservation efforts and a fund named for the park owners' daughter, which helps local families with medical expenses.