This is an archived article and the information in the article may be outdated. Please look at the time stamp on the story to see when it was last updated.
Here are some of the biggest stories from social media this week, in case you missed it!
DeKalb County's double loss
In a horrible loss for one community, a Tennessee Valley mother and daughter were both killed on the same afternoon, in different wrecks, at different locations.
Mother Julia Yates Patterson was killed Tuesday on Highway 117, in a wreck around 3:00 p.m. Two others were hurt in the same incident and taken to the hospital.
About thirty minutes after that initial wreck, just 10 miles down the road, a vehicle struck and killed Patterson's young daughter on Highway 117, south of Mentone.
Neighbors and friends are obviously devastated. WHNT News 19 spoke with one woman who knew Patterson and witnessed the first wreck.
One final ride home
In a story that made the entire Internet cry, a mother posted a heartbreaking photo on Facebook of her 4-year-old daughter on one last car ride home.
Sarah Walton snapped the photo after picking up her daughter Ellie's ashes at a funeral parlor. Ellie died in January from a rare brain tumor, according to ABC News.
On her way home, Walton snapped a photo of the urn and posted it on the Prayers for Ellie Walton Facebook page.
The post, which has helped Walton cope, has garnered more than 4,000 likes and 600 shares.
"She was the kind of kid who would have brain surgery on a Monday and by Tuesday she wanted to leave the hospital so she could get a Slurpee," Walton told ABC News. "She lit up a room. She was very outgoing and spoke to every person."
"Fire baby" boom!
Something's in the water for sure...
This one group of Iowa firefighters has seen six babies born to station employees within seven months!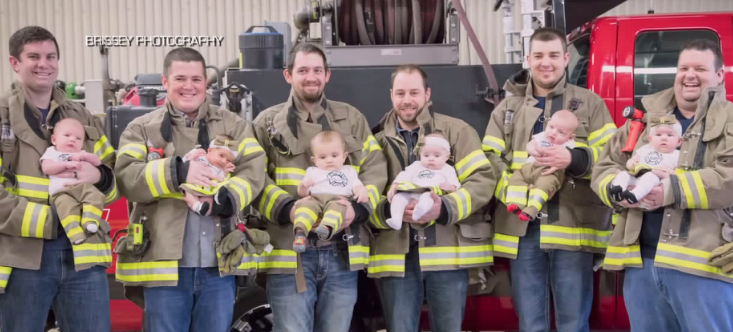 The tally is three girls and three boys.
"We definitely got really good at throwing baby showers," firefighter Adam Welp told WQAD.
"Everyone kept announcing and it was like a new announcement every month," said Katie Welp.
"It's been fun to go through it with everybody else," added firefighter Tom Brockett. "It's definitely helpful that we're all going through it together."
#NationalPuppyDay
Thursday, March 23rd was National Puppy Day; a time to celebrate everyone's favorite companions and promote adoptions for shelter or rescue pups. WHNT News 19 This Morning's team shared some photos of their puppies on-air and we also put out the call for you to share your favorite puppy pics! Click here to check 'em out.